0.75-2W fixed input DC/DC converter add 12V/15V/24V input to satisfy more applications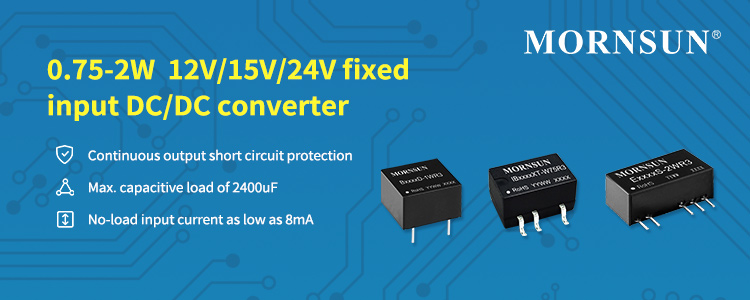 Introduction of 0.75-2W fixed input DC/DC converter
MORNSUN has extended its 3-generation (R3 series) 0.75-2W fixed input voltage DC/DC converter with 12V and 24V input voltages. These modules can be operated from 5V、12V、15V、24V and offer 3.3V、5V、12V、15V、24V outputs.
The fixed input voltage R3 series received high market recognition for its superior performance, high quality, and cost-effectiveness. The internal circuit design of these modules adopts a highly integrated circuit scheme to solve the industry problem of performance constraints caused by Royer's self-excited push-pull circuits in power supply design through breakthroughs in integrated circuit technology, transformer technology, and automation technology. By virtue of innovative technology, fixed input voltage R3 series "decouple" the restrictions of power supply's capacitive load, soft start-up, and SCP and get the three performances promoted simultaneously.
Three advantages of 0.75-2W fixed input DC/DC converter
These modules are particularly suitable for industrial communication and control chips such as 485/CAN, which require electrical isolation.
1)IC technology improves reliability and consistency
The internal components of these modules are reduced by more than 40%, significantly reducing the internal solder joints, reducing the risk of false solder and leakage, and increasing the product meantime without failure (MTBF).
2)The traditional fixed input voltage power supply using Royer self-excited push-pull circuit operating state is extremely dependent on the characteristics of the components, MORNSUN IC technology solves this problem as the discrete components no longer affect the performance of the series of power supplies, effectively enhance product consistency.
3)Traditional Royer self-excited push-pull circuit is difficult to balance the capacitive load capacity, starting capacity, and short-circuit protection functions. R3 series IC technology solves this problem, which increases the capacitive load of products from 220uF to 2400uF, and at the same time realizes the continuous short circuit protection of the whole series. SCP can effectively avoid the chain reaction caused by the failure of the back power supply and prevent the failure of the whole system to improve the reliability of the system.
Features of 0.75-2W fixed input DC/DC converter:
● Continuous output short circuit protection
● No-load input current as low as 8mA
● Operating temperature range: -40℃ to +105℃.
● Efficiency up to 85% at full-load
● Efficiency up to 78% at light-load
● EMI performance: CISPR32/EN55032 CLASS B compliant
● Certifications/Standards: CE, CB, UL(pending)
● Isolation voltage: 1500VDC (A/B/IB series), 3000VDC (E/F/IF series)
● Package: DIP/SIP/SMD
* For detailed information please refer to the related datasheet, product news is for reference only.