How Mornsun LM-R2 Series Set a Benchmark for AC/DC SMPS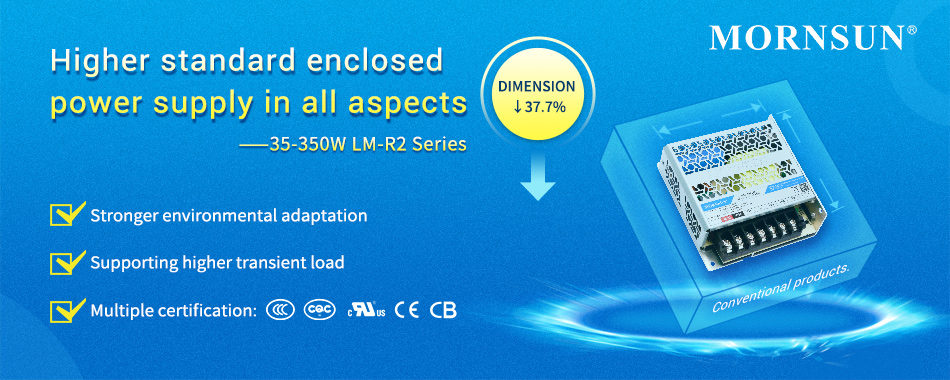 Keep Improving and innovating, MORNSUN provides a higher standard Enclosed Power Supply
With the trends of terminal equipment's miniaturization (e.g., inkjet machines, coffee machines, etc.), conventional switching power supplies can no longer meet the higher demands in the aspects of size and performance.
MORNSUN keeps on innovation, improves the quality, focuses on the customer's needs, and after 4-year refinement, now blockbuster launching the new generation Enclosed Switching Power Supply - LM-R2 Series.
LM-R2 Series features a wide power range of 35-350W, a wide output voltage range of 5-54VDC, and a significant improvement in the dimension, performance, process, structure, etc. Moreover, LM-R2 series products have 47 R&D patents, exceeding the mainstream products on the market.
Technological innovation guides quality upgrading

Power supply is the "heart" of electronic equipment. Many customers' core demand is to reduce the space of this necessary part and compact the whole system. MORNSUN LM-R2 series adopts a new generation of high-efficiency design solutions, compressing the size of the power supply as much as possible, and it also optimizes the product structure and appearance to release the space of the customer's system.
Circuit innovation leads to performance upgrading
Through the adoption of advanced circuit technology solutions, LM-R2 series has achieved high performance in terms of efficiency, operating temperature range, load capacity, leakage current, EMC, etc. Compared to the mainstream products, the product dimension is reduced by 15.4%-49.4%, and power density is better (average 6.3W/inch3, up to 9.8W/inch3), saving customers' design space.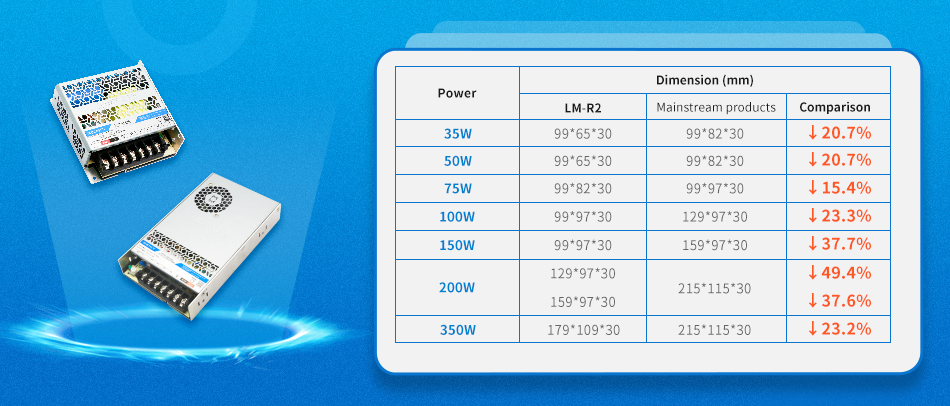 LM-R2 series has higher performance, higher environmental adaptability, and a wider applied range.
The performance is as follows:
a. Higher efficiency: up to 92.5% (LM75-23BxxR2).
b. Wider operating temperature range: -40℃ to +85℃, more adaptable to harsh application environments (conventional products range: -30℃ to +70℃).
c. Wider input voltage range: 80-305VAC/100V-430VDC, Universal, AC and DC dual-use.
d. Greater load-carrying capability: transient load minimum 115% maintain 170ms, easy to meet the requirement of non-resistive load start-up transient high power.
e. Outstanding EMS performance: Surge: IEC/EN 61000-4-5 line to line ±2KV/line to ground ±4KV; EFT: IEC/EN 61000-4-4 ±4KV
Structure innovation leads to reliability upgrading

A highly reliable power supply is essential to ensure the stable operation of the system. LM-R2 series has been perfected in terms of process design, structure design, safety design, etc. At the same time, the weight of the product is reduced by about 35% compared with the mainstream product.
Superior materials are as follows:

a. Shell material upgrading: anti-scratch, anti-deformation, better thermal conductivity, corrosion resistance, etc.
b. Installation upgrading: riveted studs anti-slip tooth design, and only 1 screw can make it a solid assembly.
c. Flexible design of structural parts: the terminal cover can be disassembled to meet the needs of different applications.
d. Supporting conformal coating to meet the different needs of customers.
Wider applied range
LM-R2 Series can be widely used in areas of industrial, LED, street light control, electricity, security, telecommunication, smart home, etc.

Features:
Compact size, high power density

Universal input voltage range: 80 - 305VAC / 100 - 430VDC

Accepts AC or DC input (dual-use of same terminal)

Operating temperature range: -40℃ to +85℃

High isolation voltage up to 4000VAC

Operating altitude up to 5000m

High efficiency up to 92%

Over-voltage class Ⅲ (designed to meet EN62477)

Output short circuit, over-current, over-voltage protection

Safety according to IEC/EN/UL/BS EN62368, EN60335, EN61558, EN62477
* For detailed information please refer to the related datasheet, product news is for reference only.