Current-mode PWM Controller Integrated Circuit SCM1733ASA with <75mW Standby Consumption And 650V Power MOS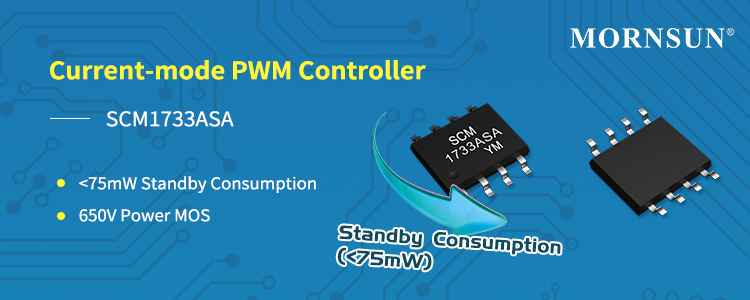 Introduction of

current-mode PWM controller SCM1733ASA
In order to achieve wider application range and lower price requirements, MORNSUN launched a new current-mode PWM controller SCM1733ASA applied to small and medium-power flyback AC/DC converter with ultra-low standby consumption of <75mW, a maximum output power of 20W, built-in high-voltage MOS and better price-performance. It features low starting current and working currently to achieve reliable start-up and achieving low consumptions.
When the AC/DC integrated circuit (IC) is fully loaded, the PWM switching frequency is fixed; after the load is reduced, the green mode is entered, and the switching frequency will step down; during no-load and light load, it will switch the intermittent mode to reduce consumptions. Multiple control modes also can provide soft-start control that reduces MOS stress and frequency jitter control to obtain good EMI. The frequency of intermittent mode is higher than 22KHz without audio noise. And it has a variety of self-recovery protection, such as VDD under-voltage lockout (UVLO), VDD overvoltage protection (OVP), cycle-by-cycle current limit protection (OCP), overload protection (OLP), and over-temperature protection (OTP).
Application of

current-mode PWM controller SCM1733ASA
It can be widely applicable fields such as AC / DC adapter, set-top box power supply, auxiliary power supply, open-frame switching power supply, etc.
Typical application circuit: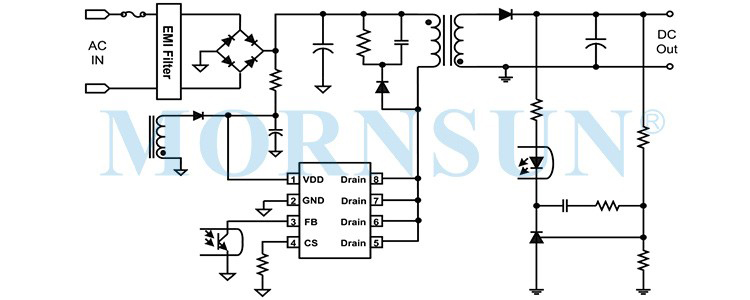 Features

of

current-mode PWM controller SCM1733ASA
● Extra Low Standby Consumption(<75mW)
● Low VDD Startup and Operating Current
● Built-in 650V Power MOS
● Fixed 65KHz Switching Frequency
● Built-in Leading Edge Blanking and Slope Compensation
● Power-on Soft Start For Reducing MOS Stress
● EMI Frequency Jitter for Softened EMI Signature
● Audio Noise Free Operation

● (OCP) Cycle-by-Cycle Over Current Limiting
● VDD Under-Voltage Lockout with Hysteresis (UVLD), Over Load Protection (OLP), Over Temperature Protection (OTP), VDD Over Voltage Protection (OVP) and output short circuit protection