120W 200-1100VDC Input DC DC converter PV120-27Bxx Series
MORNSUN recently launched enclosed 120W PV120-27Bxx series which offers four optional output voltages-12Vdc, 15Vdc, 24Vdc, and 48Vdc. The PV series provides six output power-5W, 10W, 15W, 40W, 120W, and 200W, which can meet different power requirements in different applications such as photovoltaic power generation, energy storage BMS and high voltage inverter etc.
Product advantages:
1)Ultra-wide input voltage
PV120-27Bxx series provides a wide input voltage range of 200-1100VAC, and high efficiency up to 89%, low power consumption and is more energy-saving.
2)High reliability
i) These series have a MTBF over 300,000h and 4000VAC high isolation voltage;
ii) Excellent temperature characteristic. The lowest output power derating is 85% in the range of -40℃ to -25℃ and 60% in the range of 55℃ to 70℃;
iii) This series have reverse input voltage protection, input under-voltage protection, output short circuit, over-current and over-voltage protection. These protections greatly reduce the probability of failure of the power supply itself while greatly enhance the safety performance of the module power supply and the load under abnormal working conditions.
3)This series meets the requirement of 5000m altitude application without derating at 2000m altitude which is suitable for high altitude outdoor occasions with rarefied air and big temperature difference between day and night.
Features:
▶Ultra wide input voltage range: 200 - 1100VDC
▶4000VAC high isolation voltage

▶Industrial grade operating temperature: -40℃ to +70℃
▶Efficiency high up to 89%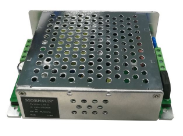 ▶Input under-voltage protection, reverse input voltage protection,
output short circuit, over-current, over-voltage protection
▶High reliability, long lifespan
▶Meet 5000m altitude requirements
* For detailed information please refer to the related datasheet, product news is for reference only.