4.5-36VDC of 8:1 Input Voltage Range DC/DC Converter ——UWE/F_S-1/3WR3 Series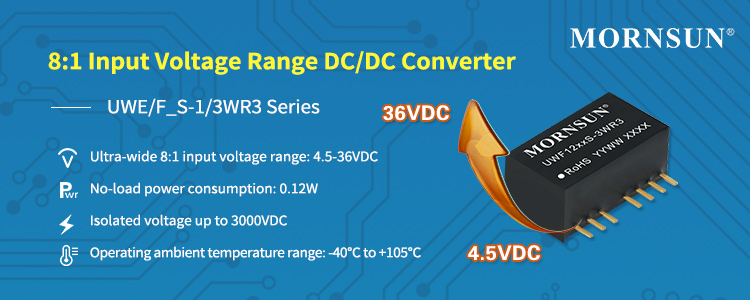 Introduction of DC/DC Converter ——UWE/F_S-1/3WR3 Series
In the harsher input voltage application, customers need a switching power supply with an ultra wide input voltage range. In this situation, the power supply exists a contradiction that the start-up ability is insufficient at low input voltage, but the starting circuit loss is large at high input voltage.

In order to solve the above-mentioned contradictions and broaden the product input voltage range, MORNSUN develops the UWE/F_S-1/3WR3 series with 8:1 ultra wide input voltage range of 4.5~36VDC, which are compatible with various typical input voltages such as 5V/12V/15V/24V.
UWE/F_S-1/3WR3 series features isolated voltage up to 3000VDC, working temperature range of -40℃ to +105℃, and no-load power consumption as low as 0.12W. In addition, it also has input under-voltage protection, output short circuit protection, over-current protection.
Application

of DC/DC Converter ——UWE/F_S-1/3WR3 Series
UWE/F_S-1/3WR3 Series can be widely used in industrial control, electric power, instrumentation, communication, medical industry, and other fields.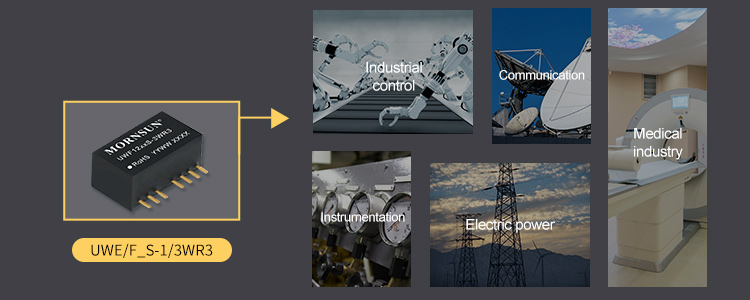 Features of DC/DC Converter ——UWE/F_S-1/3WR3 Series
● Ultra-wide 8:1 input voltage range: 4.5-36VDC
● No-load power consumption as low as 0.12W
● Operating ambient temperature range: -40℃ to +105℃
● Input under-voltage protection, output short circuit protection, over-current protection
● Industry-standard pin-out
● Meets EN62368