Brand New Generation MORNSUN Fixed Input Voltage DC/DC Converters R3 series
MORNSUN fixed input voltage fixed input voltage DC/DC converters R3 series (hereinafter "R3 series") blossom to create the Ultimate Customer Experience after three years of technology exploration and innovation, which highlight integration of reliability systems, independent innovation technology and automated production technology.
A. Adoption of IC technology offers better performance consistency and higher reliability.
R3 series use highly integrated circuit design rather than traditional Royer auto-self-excited transductors and push-pull circuit design, to ensure the converters' consistent performance and less susceptible to the discrete nature of discrete device itself. It solves traditional Royer circuit's inherent defects, that's, mutual constraints and unbalance between the performances, owing to continuous short-circuit protection, larger capacitive load and highly integrated devices.
a) All series provide continuous short-circuit protection. Most fixed input voltage DC/DC converters in the industry don't have continuous output short circuit protection. However, MORNSUN all newly R3 series offering 5/12/15/24VDC input voltage provide the protection. The continuous output short-circuit protection effectively avoids chain reaction of front-stage power source caused by failure of back-stage power source, prevent the system breakdown and thereby improve the system reliability.
b) Capacitive load is larger. R3 series greatly improve the capacitive load capacity and can start up in CC mode (constant current mode), solving the contradiction between continuous short circuit protection and capacitive load capacity in the industry. For example, a R3 series output 5VDC, and then its max. capacitive load rises from 220uF to 2400uF.
c) Devices are highly integrated. R3 series are designed with highly integrated circuit, which contributes to reducing internal components by over 40% and extending a longer MTBF, high reliable.

B. Excellent compatibility and performance create greater value for customers.

a) Packages are compatible with previous ones. R3 series are compatible with MORNSUN previous converters in both package and pin. It means that customers do not need to change PCB design when they replace or upgrade the system.
b) Light-load efficiency is higher. R3 series' efficiency is outstanding. Converters with 5VDC output not only provide efficiency to over 82% at full load (100% load) but also over 75% at light load (10% load), which
perfectly solve temperature rise of the system at light load.
c) No-load current is lower. R3 series further decrease no-load power consumption and lower no-load current to 5mA, especially suitable for energy-saving equipment, e.g., portable equipment.
d) The price is more cost-effective and competitive. The pricing of R3 series is more cost-effective and competitive in return for the customer.

C. Available various packages and withstand voltages are in line with latest UL62368 certification.

a) R3 series are in accordance with the latest UL certification, in line with UL62368 and EN62368 standards (pending).
b) Non-regulated and regulated converters provide isolation voltages of 1500VDC and 3000VDC.
c) Packages include SIP, SMD and DIP.
d) Regulated IB-S-W75R3 series in SIP4 are available with low ripple & noise and low load regulation.

MORNSUN R3 series break and advance fixed input voltage technology relaying on years of developmental and practical experience. Currently marketed converters with 5VDC input voltage offer outputs of 3.3, 5, 9, 12, 15, 24VDC. These converters have been fully stocked and, as always, to be provided with a short delivery time and high quality service. Other input voltages are coming soon! For more details please visit www.mornsun-power.com.
Features:
>Full-load efficiency up to 85%
Light-load efficiency up to 75%
>International standard pin-out,
strong compatibility
>Capacitive load up to 2400uF
>Isolation voltage: 1500VDC/3000VDC
>All series providing continuous output short circuit protection
>No-load current as low as 5mA
>Meet UL62368, EN62368 standards (pending)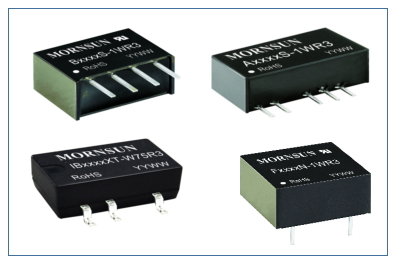 * For detailed information please refer to the related datasheet, product news is for reference only.