MORNSUN New SMD DC/DC Converter Module CF0505XT-1WR3 for Automotive Applications
MORNSUN recently launched a new SMD DC/DC converter module CF0505XT-1WR3, which is specifically designed for automotive applications. This new module CF0505XT-1WR3 meets the AEC-Q100 requirements which is upgraded in design and production technology based on earlier generation module CF0505XT-1WR2. From design, verification to production processes, CF0505XT-1WR3 module is completely in accordance with IATF16949 system requirements.
Moreover, this new module CF0505XT-1WR3 is compatible with MORNSUN previous one CF0505XT-1WR2 in package and size, and is an ideal solution for automotive applications with efficiency up to 82% and output continuous circuit protection (self-recovery).
Application - Battery Management System (BMS) for New energy vehicles
In this diagram, 6pcs CF0505XT-1WR3 modules are used to power 4 communication circuits, voltage and insulation detection circuit, current detection circuit, and achieve the insulation of power circuit, communication circuit and detection circuit to reduce the interference and improve the stability and reliability of the system.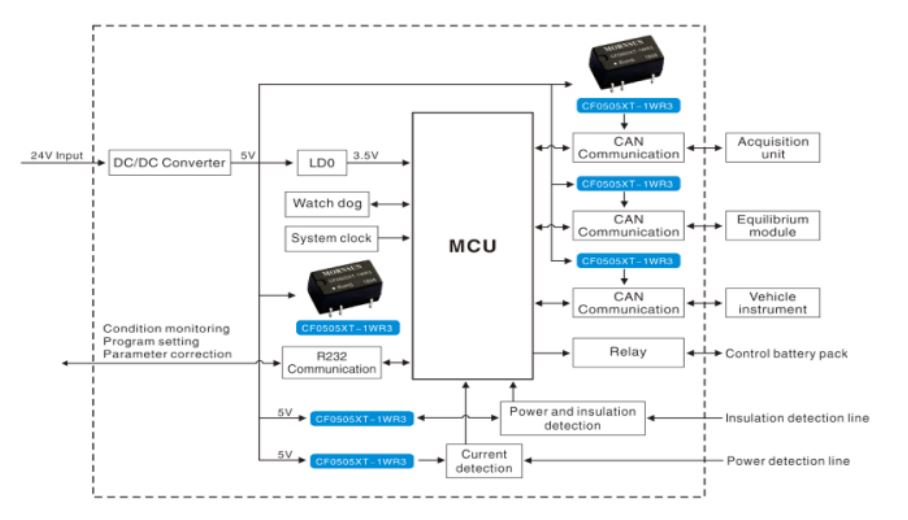 Features: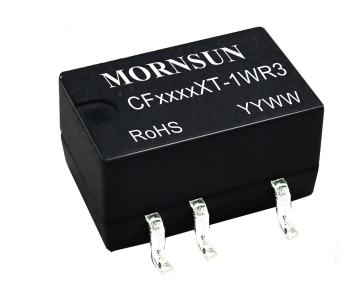 ▶ Meet the AEC-Q100 requirements
▶ Compliant to IATF16949
▶ Output continuous short-circuit protection
▶ Operating temp. range: -40℃ to +105℃
▶ Isolation voltage :3500VDC
▶ Compact SMD package
▶ Internal SMD design
▶ International standard pin-out
* For detailed information please refer to the related datasheet, product news is for reference only.