10-25W AC/DC converter LHxx-23BxxR2 with high reliability and high performance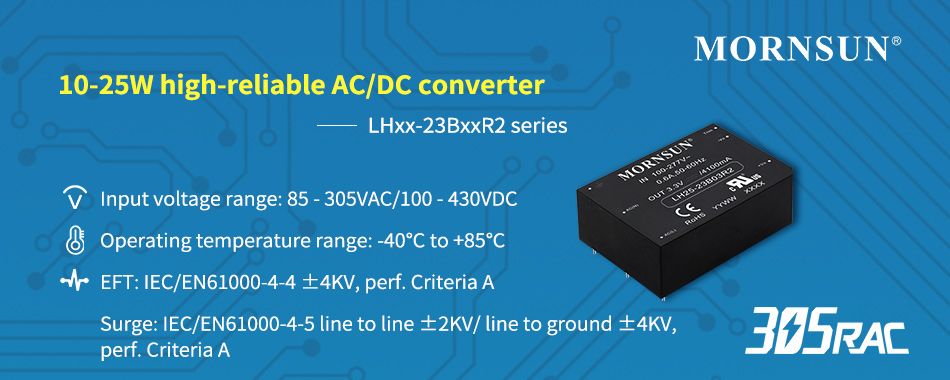 Mornsun recently launched the high-reliable AC/DC power module LHxx-23BxxR2 series, which is compatible with LH/LHE series, and power covers 10, 15, 25W.
The LHxx-23BxxR2 series is part of the 305RAC (reliable under all conditions) family. These products have the advantages of a wide input voltage range of 85-305VAC/100-430VDC and an operating temperature range of -40℃ to +85℃.
Also, their strong load capacity and good EMC performance, multiple protection functions make them a reliable and cost-effective solution in various applications. The LHxx-23BxxR2 modules are pin to pin compatible with the LHE series, and packages of chassis type (A2) and Din-rail type (A4) are available.
If you are searching for a converter with a lower or higher power, the 5-60W LH series and LHE series still be the best choices.
MORNSUN provides 4 Series of On-board AC/DC converters to satisfy customers' applications.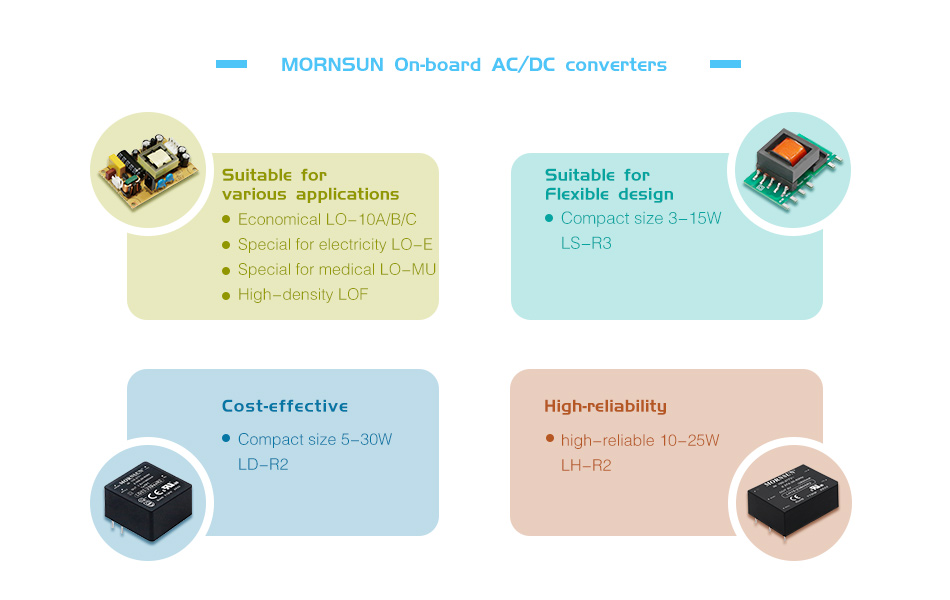 Advantage
1) High efficiency
Efficiency up to 87%, less heat loss improves product life and resistance to high- temperature environments.
2) Wide input voltage range
Global universal input voltage range of 85 - 305VAC/100 - 430VDC, satisfy different requirements of 110VAC/220VAC//277VAC, running stable and reliable in the case of grid fluctuations.
3) Wide operating temperature range
Operating temperature range of- 40℃ to +85℃, no derating within -25 to +55℃;
Running stable and reliable at outdoor low-temperature environment or enclosed high-temperature environment.
4) High reliable, high anti-interference
① High I/O isolation test voltage up to 4200VAC, meet 5000m altitude application;
② Transient over-power acceptable, able to start-up @ 1.5 times of rated power, suitable for all kinds of inductive load equipment applications;
③ Plastic case meets UL94V-0 flammability;
④ Over-voltage category OVCⅢ (meet IEC62477-1)(2000m altitude);
⑤ Class I equipment power supply with ground fault protection, suitable for applications with high requirement for EMI performance of the whole equipment, such as power equipment.
5) Good EMC performance
① Meet EMI CISPR32/EN55032 CLASS B without peripheral components, reduce interference to electronic equipment;
② EFT: IEC/EN61000-4-4 ±4KV, perf. Criteria A and Surge: IEC/EN61000-4-5 line to line ±2KV/ line to ground ±4KV, perf. Criteria A without peripherals circuits, can be used in applications with severe spike voltage interference;
③ Achieved a high requirement of pulse and surge standard with peripherals circuits.
Application
They can be widely used in industrial control, smart homes, intelligent buildings, intelligent agriculture, household appliances, etc., especially for those designs that are space limited and require good EMI performance.

Features
● Universal input voltage range: 85-305VAC or 100-430VDC input voltage
● Operating temperature range: -40℃ to +85℃
● High I/O isolation test voltage up to 4200VAC
● Efficiency up to 82%
● Satisfy 5000m altitude application
● Plastic case meets UL94V-0 flammability
● Meets Emissions CLASS B and surge ±2KV/±4KV without additional circuits
● Over-voltage category OVCⅢ (meet IEC62477-1)(2000m altitude)
● IEC/UL/EN62368 approved