4"×2" 200W Open-frame Medical AC/DC Converter - LOF225-23BxxR2 Series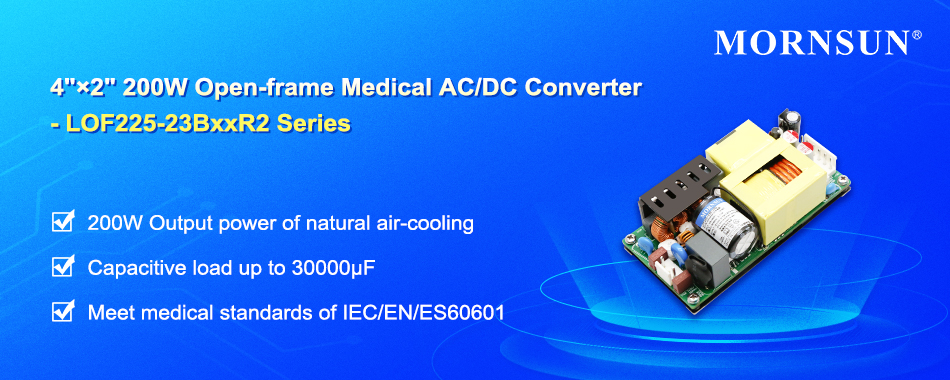 To meet the demand for power supply with the requirement of miniaturization and without an external fan, MORNSUN launched the LOF225-23BxxR2 series. These modules are optimized on the circuit layout and component heat dissipation design, feature a size of 4"×2" and an efficiency of 96%, suitable for applications requiring high power in a natural air-cooling environment.
LOF225-23BxxR2 series are suitable for BF-type medical applications (Medical system equipment accessible to patients). They feature active PFC function, 4000VAC high isolation voltage, meet medical standards (IEC/EN/ES60601), industrial standards (IEC/EN/UL62368, IEC/EN61558), and home appliance standards (IEC/EN60335), making them safer and more reliable in applications.
Performance enhancements for more options
Comparison of LOF225-20Bxx and LOF225-23BxxR2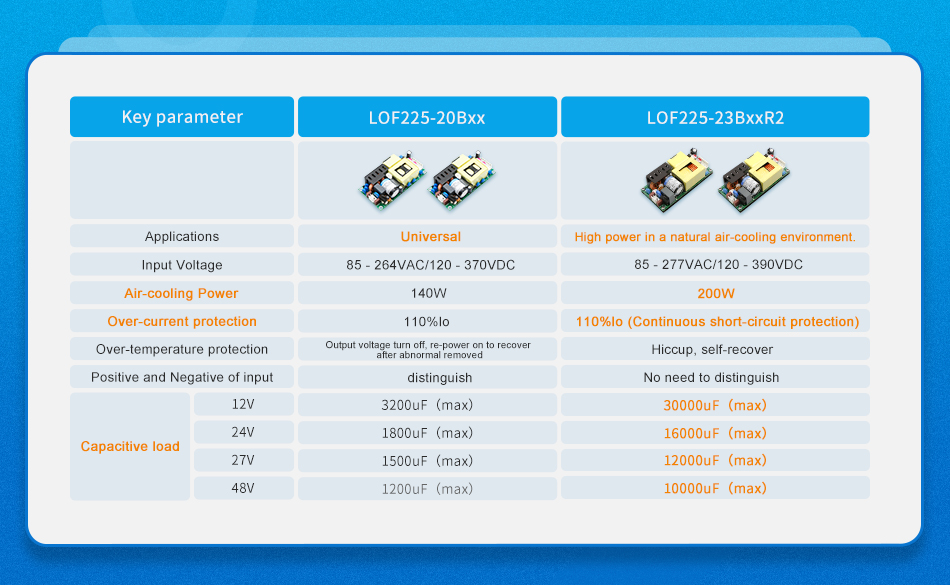 Applications
LOF225-23BxxR2 are suitable for applications requiring high power in a natural air-cooling environment, such as BF-type medical equipment, and also can be used in industrial, LED, street light control, electricity, security, telecommunications, smart home, and medical, etc.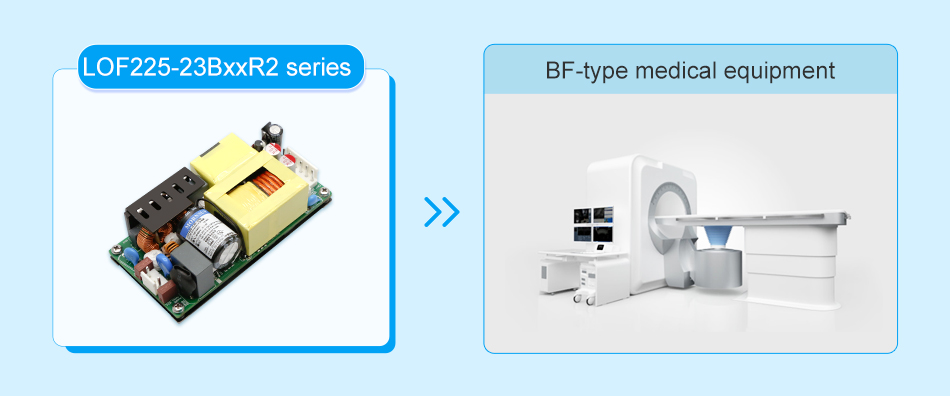 Features
Input voltage range: 85 - 277VAC/120 - 390VDC

Compact size: 4" × 2" × 1.12"

Operating ambient temperature range: -40℃to+70℃

Active PFC

High I/O isolation test voltage up to 4000VAC

Low leakage current <0.5 mA

Stand-by power consumption: 0.75W Typ.

Operating altitude up to 5000m

Output short circuit, over-current, over-voltage, over-temperature protections

Output power: Air cooling 200W, CFM 225W

Design to meet medical approvals and be suitable for BF-type applications

The base plate with conformal coating

Safety according to IEC/EN/UL/BS EN62368, GB4943, IEC/EN60335, IEC/EN61558, IEC/EN/ES60601, IEC60950 standards
* For detailed information please refer to the related datasheet, product news is for reference only.