12Mbps,3.3~5V Powered, Half-duplex RS485 Transceiver——SCM3403ASA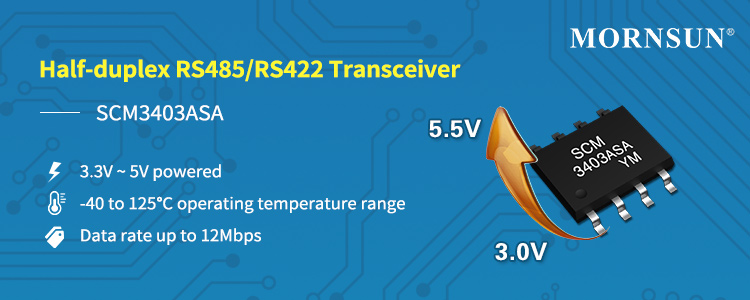 Introduction of Half-duplex RS485 Transceiver—SCM3403ASA
SCM3401 and SCM3402 family, our Half-duplex RS-485 transceiver with 3.3V or 5V powered, received a warm response from the market since its launch. To better fulfill a wide power range and more competitive cost, SCM3403ASA complying with TIA/EIA-485 is launched to be compatible with 3.3V and 5V powered.
The SCM3403ASA is half-duplex and low-power RS485 transceiver, which the ESD protection of bus port above 15kV HBM and bus withstand voltage up to ±15V. It includes a driver and a receiver, both of which can be independently enabled and disabled. When both are disabled, they are a high-impedance output state. SCM3403ASA has fail-safe, current limit protection, and over-voltage protection.
Half-duplex RS485 isolator ic SCM3403ASA presents a 1/8 unit load, which allows up to 256 transceivers on the same communication bus for large node count systems (for example, remote meter reading systems). In a remote utility meter reading system, individual utility meter readings are routed to a concentrator with an RS-485 network, so the high allowed node count minimizes the number of repeaters required to network all the meters. Data for all meters is then read out from the concentrator from a single access port or a wireless link. And data rates up to 12Mbps are achievable by using the SCM3403ASA without error.
Application

of Half-duplex RS485 Transceiver—SCM3403ASA
It can be widely used in industrial automation, building automation, smart meter, remote signal interaction and transmission, and so on.
Typical application 1: Half-Duplex network structure

Typical application 2: Typical transceiver control design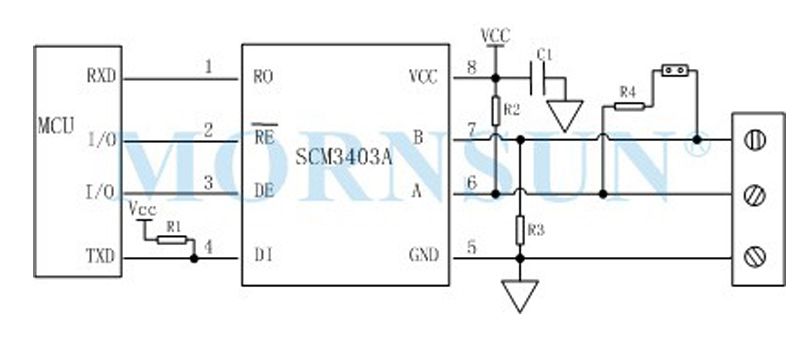 Typical application 3: RS485 protocol transceiver integrating power isolation, signal isolation, RS485 communication and bus protection。(MORNSUN can provide matched fixed input IC + RS485 IC + digital isolation IC + transformer + surge protection module)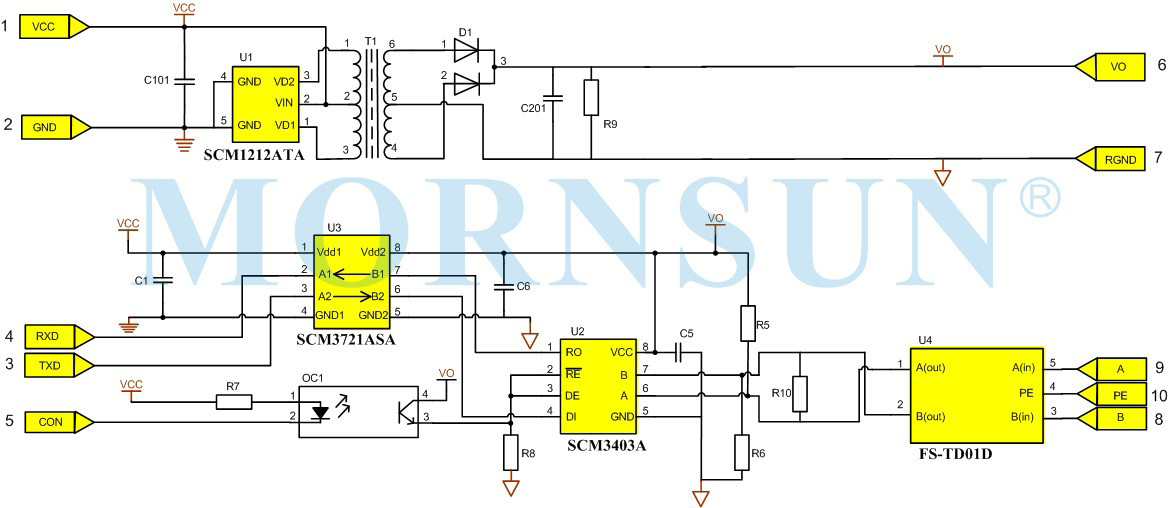 Features of Half-duplex RS485 Transceiver—SCM3403ASA
● 3.0V~5.5V wide power range
● Operating temperature range:-40 to 125℃
● ESD protection of bus port:15kV HBM
● Bus fault tolerance withstand voltage up to±15V
● Data rate up to 12Mbps in an electrical noise environment
● 1/8 Unit Load—Up to 256 Nodes on a Bus
● Short circuit protection, driver short circuit protection, and receiver open circuit expired protection
● Low power consumption shutdown function
● Stronger anti-chirp capacity
● Integrated transient voltage boycotts function
For more information, feel free to contact us.
* For detailed information please refer to the related datasheet, product news is for reference only.