100W DC/DC converter VCB_EBO-100WR3 support the development of 5G industry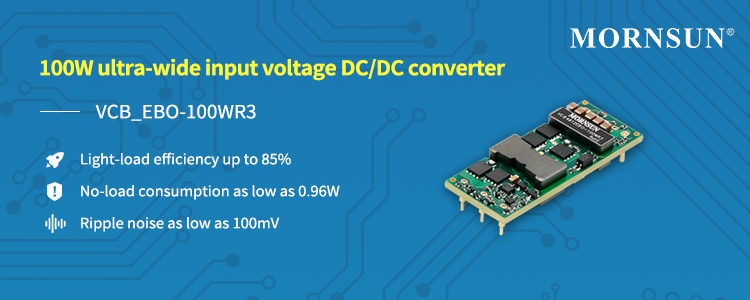 Introduction of VCB_EBO-100WR3
The newly released 1/8-brick 100W telecom power supply VCB_EBO-100WR3 series features superior performance, small size, and high power density to support the development of the 5G industry.
VCB_EBO-100WR3 meets IEC/UL/EN62368 and DOSA standards, with a wide operating temperature range of -40℃ to +100℃, excellent performance even at temperature derating, isolation voltage of 1500VDC, ripple and noise as low as 100mV, high efficiency up to 93%. Its light load (10%) efficiency is as high as 85%, and the no-load loss is as low as 0.96W, which can greatly reduce the standby power consumption of the whole system.
In addition, all devices of VCB_EBO-100WR3 are painted with conformal coating to protect the circuit board from the erosion of bad conditions. And its multiple protections of input under-voltage, over-current, short-circuit, etc. can effectively prevent unnecessary losses caused by abnormal operation of customer systems or equipment.
Applications of VCB_EBO-100WR3
The modules can be widely used in industrial control, electric power, instrumentation, telecommunication, and others.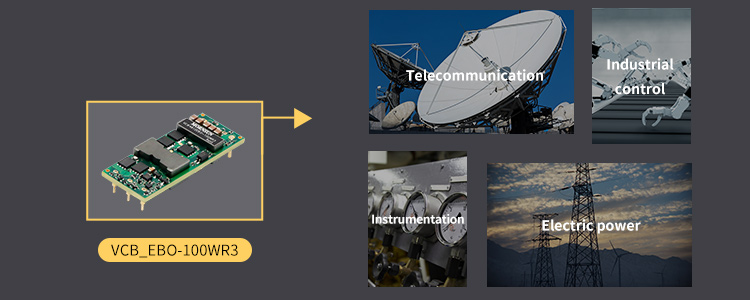 Typical application: Fiber optic Ethernet switch

VCB4812EBO-100WR3 is used as the main power supply, and the back end is converted to a low-voltage power supply for the main control chip and optical module through the POL power supply.
Features of VCB_EBO-100WR3
● Operating temperature range: -40℃ to +100℃.
● Efficiency up to 93%
● light load efficiency up to 85%
● Ripple and noise as low as 100mV
● No-load consumption as low as 0.96W
● EMI performance meets CISPR32/EN55032 ClassA.
● Meets IEC/UL/EN62368 and DOSA standards.
* For detailed information please refer to the related datasheet, product news is for reference only.