600W Compact AC DC Enclosed Switching Power Supply LMF600-20Bxx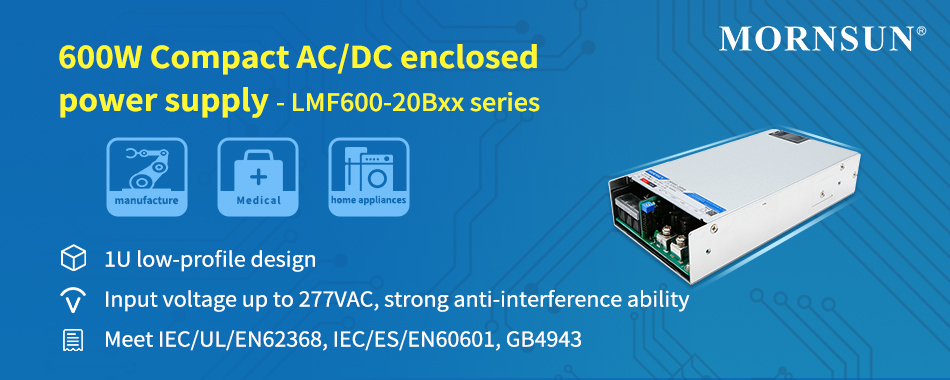 With the increasing demand for medium and high power segment power supply, Mornsun fulfills the product line of AC/DC enclosed switching power supply, and newly launches 600W LMF600-20Bxx series with active PFC.
The LMF600-20Bxx features a small size, a wide operating temperature range of -40℃ to +70℃, and meets the standard of IEC/UL/EN62368, EN60335/EN61558, GB4943, IEC/ES/EN60601, etc. It is a safe and reliable power solution for intelligent manufacturing, medical, home appliances, etc.
Advantage
1) Compact size, high power density
a. Dimensions of 101.6*203.1*40.6mm,power density up to 11.72W/inch3;
b. 1U low-profile design
2) Suitable for a wide range of applications
a. Operating at -40°C temperature without derating
b. Operating altitude up to 5000m
3) High reliability
a. Input voltage up to 277VAC, strong anti-interference ability
b. High I/O isolation test voltage up to 4000VAC
c. Design to meet safety standards for information equipment, medical, white goods, etc.
d. 3-year warranty

e. Output short circuit, over-current, over-voltage over-temperature protections
4) Environment friendly
a. Efficiency up to 94%
b. Standby power consumption as low as 0.5W
c. Remote sense compensation
d. Remote ON/OFF function
e. DC_OK function
f. With 5V/1A standby power
5) EMI Class B without peripheral circuit
Application
As intelligent manufacturing is becoming more and more popular in high-end manufacturing, collaborative robotics enables humans and robots to safely and effectively work together.
Collaborative robotics are usually smaller than traditional machinery, more flexible, and can be quickly adjusted at any time to meet the requirements of more personalized customization services.
The LMF600-20Bxx series is the ideal power supply for intelligent manufacturing equipment with its high power density and reliability.

Features
● Input voltage range :80-277VAC/110-390VDC
● Accepts AC or DC input (dual-use of same terminal)
● Operating temperature range: -40℃ to +70℃
● Low standby power consumption, high efficiency
● High I/O isolation test voltage up to 4000VAC
● Low ripple & noise
● Output short circuit, over-current, over-voltage, over-temperature protection
● Remote sense compensation
● Remote ON/OFF function
● DC_OK function
● With 5V/1A standby power
● Operating altitude up to 5000m