1.7W/cm3 Ultra-high Power Density AC DC Converter 120-350W LOF Series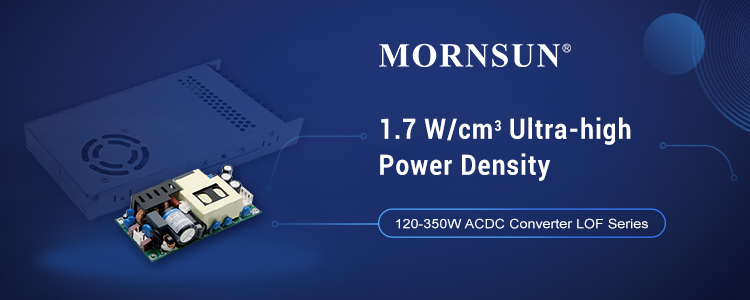 As a primary power supply of the user system, AC/DC converter is the cornerstone to ensure the stable and efficient operation of the system. When choosing medium and high power AC/DC, most users prefer to use the mature conventional power supply and often take the cost as the main factor. Medium and high power AC/DC should not only consider the cost but also include thermal design, safety regulations, dimensions, reliability. While MORNSUN ultra-compact AC/DC power supply LOF series balance the above contradictions very well.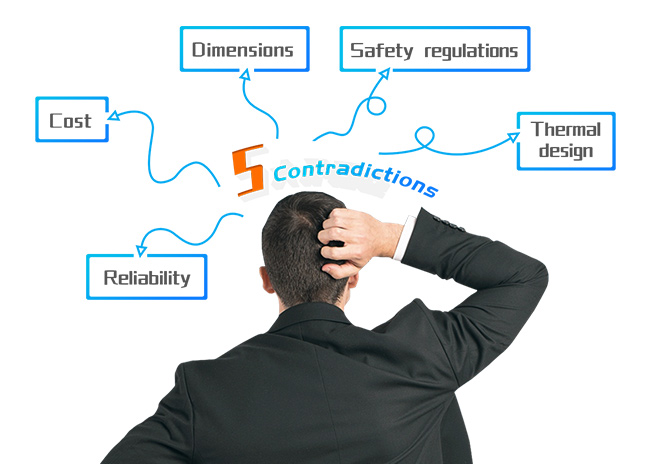 1.7W/cm3 power density
Our new ultra-compact LOF Series makes them very suitable for applications with space limitation, such as LOF225: 4"×2"×1" (1.7W/cm3), LOF120: 3"×2"×1.2" (1W/cm3), LOF350: 5 "×3"×1" (1.4W/cm3). It can be installed easily with the JST connector.
Excellent performance for integration, efficiency and thermal design
Based on our latest circuit topology and adopting digital control, the LOF series has a better performance of efficiency, ripple, no-load power consumption, temperature range, and dynamic performance. It optimizes the components, and the conversion efficiency LOF series can up to 95% in the full input range. The product has various protections such as short circuit, over-current, over-voltage, over-temperature protection, etc.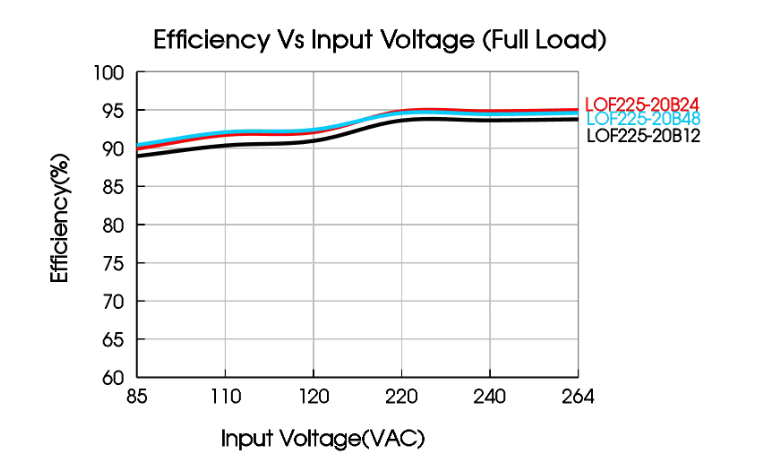 Optimizing structural layout, the Lower thermal consumption can be converted longer life of the power supply and improvement of tolerance in high-temperature working environments.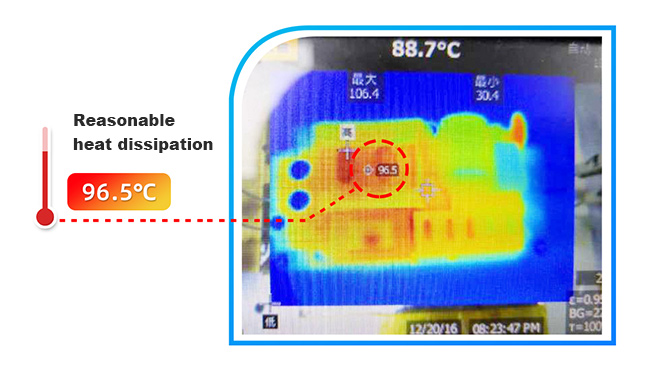 Various standards to meet multiple applications
The primary and secondary sides of The LOF series meets the reinforced insulation with 2*MOPP, and the isolation voltage is up to 4000VAC. the touch current is as small as 0.1mA, which is suitable for patients contact and patient assistance situation.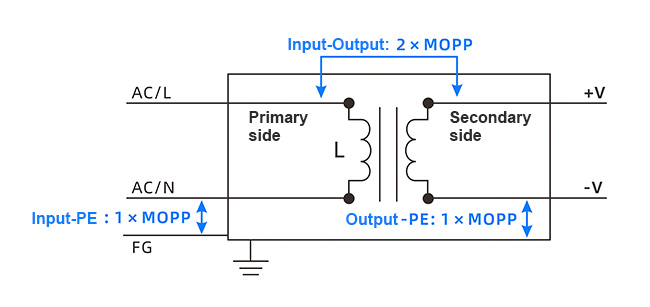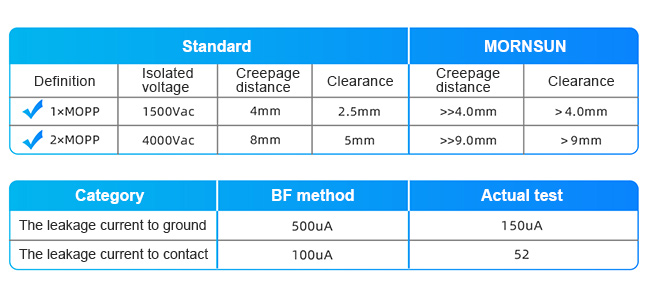 In addition, the ac to dc voltage converter LOF series with active PFC function features a universal input range of 85 - 264VAC/120 - 370VDC and operation temperature of -40℃~+85℃, which can be the ideal one for indoor/outdoor environment with large temperature difference without additional heat dissipation or start-up heating at low-temperature. It meets IEC/EN/UL62368、IEC/EN60335、GB4943、IEC/EN/ES60601 and IEC/EN61558 and can be installed in the system of Class I (with PE) or Class II (without PE), which is suitable for industrial, office and home environments.

Besides of above industry, the LOF series also attracts the attention of a more typical industry. In the coal industry, compactness, high efficiency, wide input voltage range, high isolation and other properties of the ac dc converter module LOF series are in line with the industry's ultimate requirements for power supplies. In the rail transportation industry, reinforced insulation is a typical demand in the industry, the 4000VAC isolation voltage of the LOF series is an ideal one. At the same time, with the development of the environmental protection industry, portable devices are more and more widely used, the compact size of the LOF series provides a smaller and more convenient design for many environmental protection devices.
Innovative technology to safety and r

eliability
In the LOF series manufacturing process:

①The radiator adopts a self-adhesive process, which features smaller thermal resistance and reliable heat dissipation, and avoids unsatisfactory heat dissipation due to human assembly deviation in lock screwdriver process;
② Adopting the reflow soldering process, the solder joints will be more reliable.

The LOF series meets the EMS level 4, the electrostatic discharge can achieve ±8kV (contact) / ±15kV (Air), and the surge immunity is up to ±4kV, which possess low electromagnetic radiation and high electromagnetic interference resistance characteristics. In a strong interference environment, the LOF series still work steadily. The electrical characteristics are stable over the entire load range.
In reference to industry derating regulations, the LOF series is considered from voltage stress, current stress to temperature stress, and verified through the high temperature and high humidity, high and low-temperature cycle and vibration experiments, and other reliability experiments. Combined with automated production and 100% aging before entering the warehouse, the product will greatly guarantee reliability.
Features of AC DC Converter 120-350W LOF Series
● Input voltage range:85 - 264VAC/120 - 370VDC
● Operating ambient temperature range:-40℃ to +85℃
● Compact size: LOF120:3"×2"×1.2"(1W/cm3), LOF225:4"×2"×1"(1.7W/cm3), LOF350:5"×3"×1"(1.4W/cm3)
● Active PFC
● High I/O isolation test voltage up to 4000VAC
● Operating altitude up to 5000m
● Very low leakage current <0.1mA
● No-load power consumption <0.3W
● The base plate with conformal coating
● Installing in the system of Safety Class I/II is available

● Safety according to IEC/EN/UL62368, IEC/EN60335, IEC/EN61558, GB4943, IEC/EN/ES60601
* For detailed information please refer to the related datasheet, product news is for reference only.