85- 850VAC Input Voltage Power Supply PVA150-27Bxx Series
Introduction of PVA150-27Bxx Series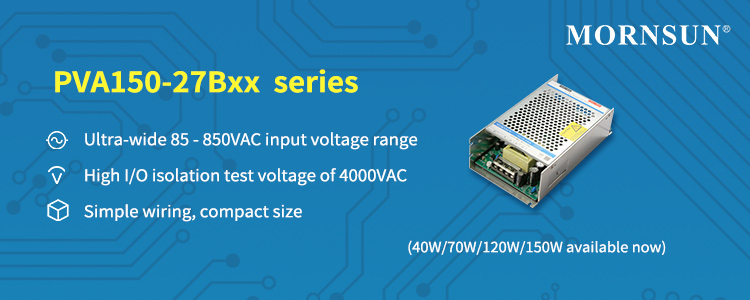 Mornsun PVAxx-27Bxx family extends to 150W, and the PVAxx-27Bxx covers output powers of 40W, 70W, 120W, 150W now.
PVA150-27Bxx series has an ultra-wide and ultra-high input voltage range of 85-850 VAC, which meets the requirements of voltage fluctuations such as 127/220/380/660VAC in coal mining. The dimensions of PVA150-27Bxx series (199*110*55mm) are smaller than the traditional solution of industrial frequency transformer with AC/DC power supplies. Besides, they only have one input port and don't need to change the wire, which can completely avoid the risk of a wrong connection and save the cost of customers' application.
In addition, PVA150-27Bxx series features an isolation voltage of 4000VAC, and input inrush current is less than or equal to 25A, and its EMS EFT/Surge is ±4KV. Protections of output short circuit, over-current and over-voltage are included.
Applications of PVA150-27Bxx Series
Widely used in applications of the coal mining control system and security industry.

Features of PVA150-27Bxx Series
● Ultra-wide 85 - 850VAC input voltage range
● Industrial grade operating temperature: -25℃ to +70℃
● High I/O isolation test voltage of 4000VAC
● EMS EFT/Surge: ±4KV
● Ultra-wide input inrush current: ≤25A
● Output short circuit, over-current, and over-voltage protection