Integrated isolated 3.3V/5V power, the Chiplet RS485/422 Transceiver - R4 series

Mornsun Chiplet SiP package R4 series is designed for data bus networks, meeting the various market requirements, such as the highly integrated system. This time, Mornsun launched a series of products, including:
Half-duplex RS485: TD(H)341S485H(S), TD(H)541S485H-A series

Full-duplex RS422: TD(H)341S485S-F(F1/FT) series

High-rate digital isolator: TDx41S-4xxx series
Duplexer type
In the process of data transmission, it generally transmits in two directions.

Full-duplex allows the data transmitted in both directions. Similar to a phone call, the voices of both sides can be heard from each other.

While half-duplex is similar to speaking on a walkie-talkie, only one side of the voice is allowed to be transmitted to the other side at a time.

The outstanding advantage of a full-duplex over a half-duplex is that the transmission mode can be used for point-to-point connections without conflict.

Based on the on-sale half-duplex products, MORNSUN expands and develops new products that can meet the use of various bus networks so that customers can select flexibly for different working conditions.
Applications
It can be widely used in industrial automation, building automation, smart meters, photovoltaic inverters, motor drive, etc.

Features
Ultra-small, ultra-thin, chip-scale (compatible with SOIC-16/20 package)

DFN package, sidewall copper

Integrated isolated 3.3V/5V power

Isolation voltage up to 5000VDC

Baud rate up to 150Mbps

(422/485: 1M/20Mbps, Digital isolator: 150Mbps)

CMTI >25kV/μs

485/422 transceivers support 1/8 Unit Load: Up to 256 nodes on a bus

Industrial operating temperature range: -40℃ to +105℃
Selection Guide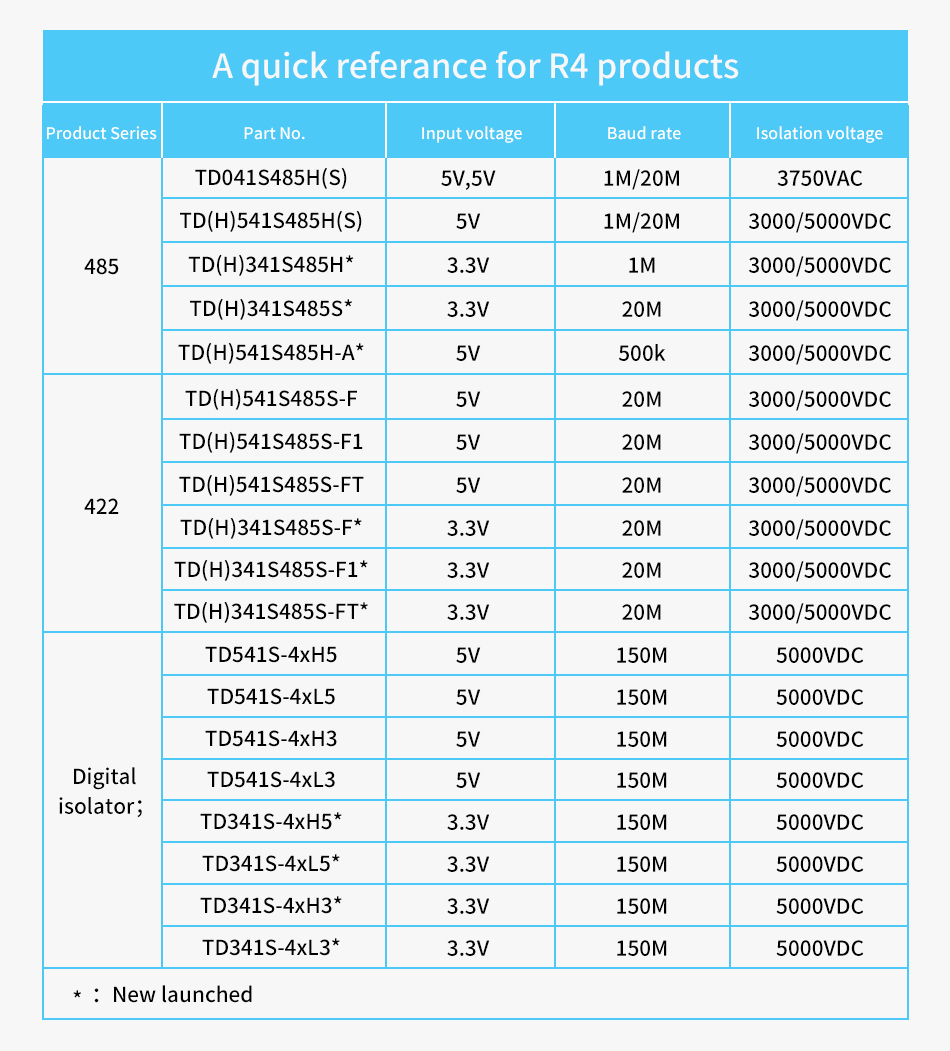 * For detailed information please refer to the related datasheet, product news is for reference only.