15-65W Multi-output Open Frame AC/DC Converter LOxx-10A/C/D Series
AC/DC Converter LOxx-10A/C/D Series Introduction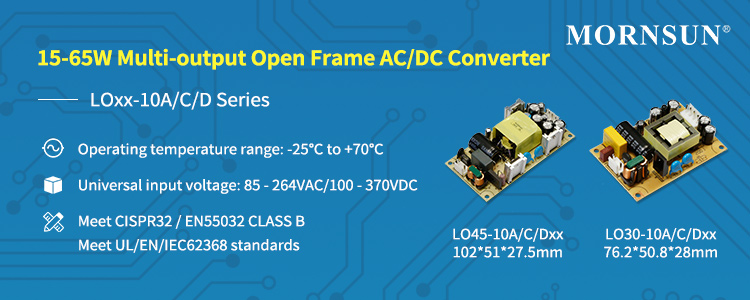 LOxx-10Bxx, our compact Open Frame AC/DC Converter with a single output, received a warm response from the market since its launch. To better fulfill customer's design requirement of saving layout space and cost, we are pleased to extend the AC/DC Converter LO series with multi-outputs:
LO30xx-10A series provides outputs of +/12V, +/-15V
LO30xx-10D series provides output of +5/+5V, +5/+12V, +5/+24V
LO45xx-10C series provides output of +5/+12V/-5V, +5/+12V/-12V, +5/+15V/-15V.
Features of AC/DC Converter LOxx-10A/C/D Series
1) High quality, competitive price
This series has high reliability, good performance, and price as unified materials and production automation.
2) Good operating temperature performance
Operating temperature range: -25℃ to +70℃, the temperature range of no reduction in output power at full load: -10℃ to 50℃.
3) Compact size
Multi-output products can effectively save layout space, multi-output LO30 series (76.2 * 50.8 * 28mm) and LO45 series (102 * 51 * 27.5mm) are about 40% smaller than normal ones.
4) High reliability
EMI performance meets CLASS B, and it is designed to meet CE/CB/UL62368 and have output short circuit, over-current, over-voltage protection.

AC/DC Converter LOxx-10A/C/D Series Application
It can be widely used in communication, industrial, commercial, and civil applications.
Typical application: Access control system

AC/DC Converter LOxx-10A/C/D Series Feature
● Universal input voltage: 85 - 264VAC/100 - 370VDC
● Operating temperature range:-25℃ to 70℃
● EMI performance meets CISPR32 / EN55032 CLASS B
● Meet UL/EN/IEC62368 standards