3000W Medical AC/DC Enclosed Power Supplies – LMF3000-20Bxx Series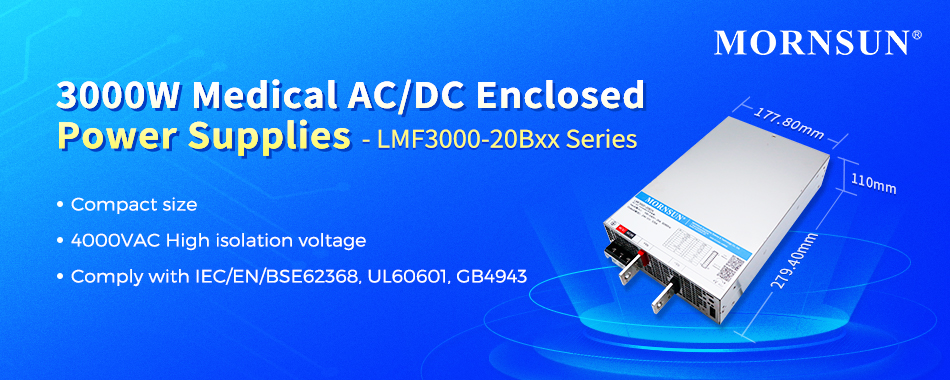 The market has a contradiction between the development of miniaturized terminal devices and the large size of high-power enclosed switching power supplies.
MORNSUN, with its strong research and development capabilities, has launched the high power density 3000W LMF3000-20Bxx series AC/DC switching power supply. These products have advantages such as high efficiency (94%), wide operating temperature range, are designed to meet medical certification, and are suitable for medical and other applications.
Advantages
1. Compact size: 279.40×177.80×63.50mm
2. High efficiency up to 94%
3. Wide operating temperature range: -40℃ to +85℃, no derating @ -40℃ to +50℃
4. Programming adjustable output voltage
5. High reliability
CE & RE meets CISPR32 EN55011 CLASS A, ESD meets IEC/EN61000-4-2 Contact ±8KV/Air±15KV

130% peak load capability (3s)

High isolation voltage up to 4000VAC

Double-side conformal coating

Comply with IEC/EN/BSE62368, UL60601, GB4943

5-year warranty
Applications
Features
Wide input voltage range: 85 - 277VAC / 120 - 390VDC

Wide adjustable output voltage range

Accepts AC or DC input (dual-use of same terminal)

Operating temperature range: -40℃ to +85℃

High efficiency, high reliability

Active PFC

High isolation voltage up to 4000VAC

Supports 7+1 parallel redundancy

Supports PMBus communication

Output short circuit, over-current, over-voltage, over-temperature protections

5-year warranty

Operating altitude up to 5000m

Comply with IEC/EN/UL/BS EN62368, UL60601, GB4943
* For detailed information please refer to the related datasheet, product news is for reference only.