High-voltage Output DC/DC Converter - HO Series

Introduction
MORNSUN launched the HO series DC/DC converter to meet the rising demand for ultrasonic technology devices.
This product series is specifically designed for applications requiring high voltages and output voltage stability, e.g. industrial control, medical chemical, scientific experiments, etc. The output voltage of these series is up to 6000+VDC and positive or negative voltage outputs are available. If needed, you could contact us for a customization service.
Applications
HO series products are widely used in high voltages fields such as ultrasonic flaw detector, x-ray machine, spectral analyzer, electrophoretic, mass spectrum, light spectra, electron beam, ion beam, non-destructive testing, high voltage bias, photo-multiplier tubes, and avalanche diodes.

Features
Ultra-low power consumption

Output voltage with high stability, low time coefficient and temperature coefficient

Wide operating temperature range: -45℃ to 105℃

Continuous output voltage with linear adjustable function

Input reverse polarity protection, control voltage over-voltage protection

Output short-circuit protection, over-current protection
PS: For more product details and applications please contact our FAE team: fae801@mornsun.cn

Selection guide
MORNSUN HO1 series high-voltage output power supply has been maturely used in various applications including photomultiplier tube, avalanche diode, high-voltage capacitor charging, high-voltage electric field, high-voltage pulse, etc.
The products can be divided into two categories of ≤2W and 3-100W.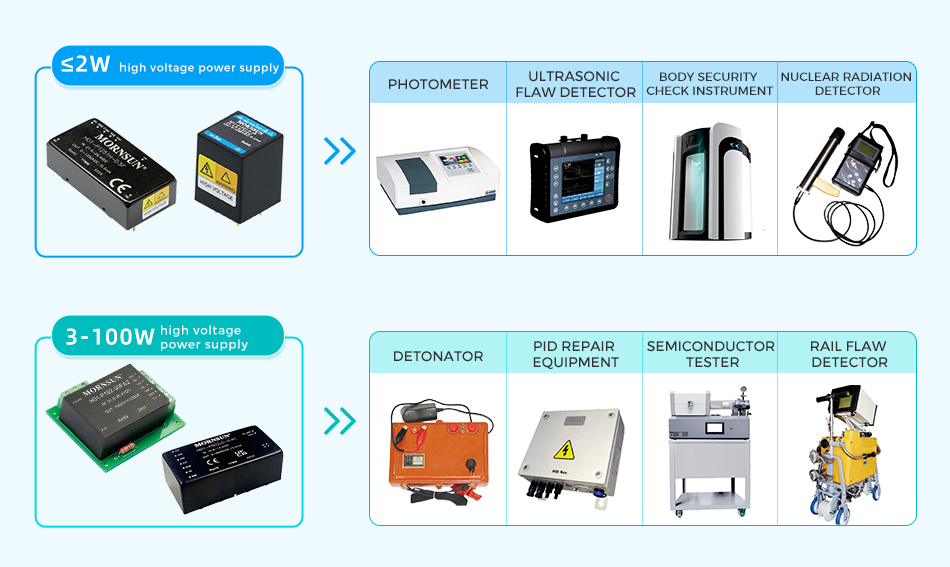 Feature product
HO1-P431-XA is a counter front module specialized for G-M counter and can be used in the related equipment of nuclear radiation detection and measurement. It integrates a 430V DC/DC high-voltage power supply module and a two-way counter pulse amplification filter shaping circuit, which can be connected with two counter tubes at the same time. It is very suitable for a wide range of application scenarios that need high dose rate and low dose rate counter tubes, and can also be applied to a single counter tube.

* For detailed information please refer to the related datasheet, product news is for reference only.