SMD Isolation Analog Signal Conditioning Module TN_T Series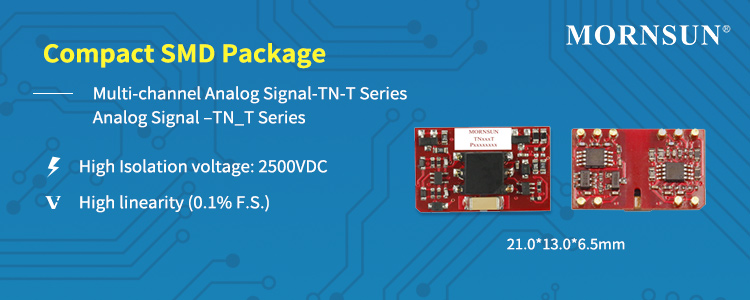 Introduction of SMD Isolation Analog Signal Conditioning Module TN_T Series
Due to the complex industrial environment, the electromagnetic interference signals are coupled into the system equipment, which easily causes measurement deviation, system instability, and even system module damage. In order to protect system equipment or system modules, it is necessary to implement interference suppression on industrial signals (such as 4-20mA or 0-5V), that is, signal isolation and conditioning.
MORNSUN has its own isolator technology platform,TN_T series is brand new signal conditioning module merged the signal self-driving technology with features of compact-size multiple-uses and high –precision.
The TN_T series can be applied to the system's acquisition input or execution output to improve the flexibility of signal transmission design. It adopts two-part power mode, which can improve the utilization of power in multiple signal transmission. Multiple modules combination can save user costs.
Further more, our production automation system ensure the integration and reliability of TN_T, such as its transformer pre-packaging. And, SMD packaging can improve production efficiency for customer.



Application of SMD Isolation Analog Signal Conditioning Module TN_T Series
It can be widely used in industrial control, automation, PLC, DCS, power monitoring, instrumentation, petrochemical, metallurgy, shipbuilding, cement, and other fields.
Typical case:PLC application

Features of

SMD Isolation Analog Signal Conditioning Module TN_T Series
● Two-part isolation (signal input and signal output)
● High linearity (0.1% F.S.)
● Isolation voltage (2500VDC/60s)

● Response time: ≤1ms
● Insulation resistance: 100MΩ
● Load resistance: voltage type: 2KΩ,current type: ≤500Ω
● Low ripple & noise: (30mVpp TYP.,20MHz)
● Extremely low-temperature coefficient: (50PPM/℃ TYP.,within -40℃ to +85℃)
● Full and zeros adjustment functions

● Compact size: SMD16 Package ( output current type: 23.00*13.00*6.50mm, output voltage type: 21*13*6.5mm)
● ESD protection (IEC/EN61000-4-2 Contact ±4KV perf. Criteria B)
Picture of

SMD Isolation Analog Signal Conditioning Module TN_T Series