High Reliability DC/DC converter QAxx3D-2GR3 for IGBT/SiC Gate Driver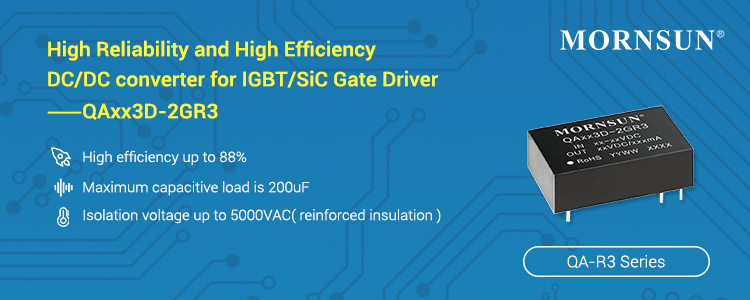 MORNSUN newly DC DC converters QAxx3D-2GR3 are specially designed for 1700V(or lower) IGBT/SiC Gate Driver.
High reliability
QA-R3 series adopts a unique design in transformer design, by increasing the creepage distance of the primary and secondary sides, making the electrical gap meet the safety requirements of 14.5mm, isolation capacitance of 3.5pF, isolation voltage of 5000VAC (EN61800-5-1 standard). Also, the reinforced insulation design of it ensures the reliability further.
The products meet the EN50178,EN61800-5-1,UL62368 standards, and are certified to EN62368, which ensure that they can be used for 1700V(or lower) IGBT/SiC MOSFETs reliably and effectively.
Efficiency up to 88%
Adopting a unique circuit design scheme to reduce the influence of leakage inductance of the original and secondary side and improves the efficiency greatly. These products have an efficiency up to 88%.
Dual-channel output design and Single-channel output power up to 2.4W for a more flexible design
With a dual-channel output design, the output power of each channel of QA-R3 is up to 2.4W. And it has reinforced insulation of 5000VAC isolation between the two channels.
QA-R3 series is a cost-efficient converter for users to save cost, and also a compact module to reduce the space for a more flexible design.
Application
QA-R3 is suitable for 1700V(or lower) IGBT/SiC MOSFETs drivers in rail transportation, smart grid, wind power generation, new energy, motor drive, charging pile, etc.

Features
l High efficiency up to 88%
l Isolation voltage up to 5000VAC( reinforced insulation )
l The maximum capacitive load is 200uF
l Isolation capacitance 3.5pF typ.
l Operating temperature range: -40℃ to +105℃
l The material of the whole machine conforms to CTI I
l Designed for 1700V IGBT/SiC MOSFET driver
l According to UL62368/EN61800/EN50178
l EN62368 approval