400W 66-160VDC input voltage DC/DC converter for Railway

Introduction
URF1D_FB-400(H)WR3 series is a high-performance DC/DC converter specialized for railway applications. The product features 400W output power without minimum load requirement, a wide input voltage of 66-160VDC, and allowing operating temperature of up to 100℃.
It has input under-voltage, output over-current, over-voltage, short-circuit, and over-temperature protections, and the functions of remote On/Off control, remote sense compensation, and output voltage trim adjustment. This series is designed to meet IEC/EN/UL62368/EN50155 standards and adopt vacuum potting technology to improve the product's reliability.
Advantages
1. Wide operating temperature range for harsh environment
The ambient temperature outside the vehicle usually ranges from -40℃ to +50℃, and the temperature of the internal PCB board can even reach -40℃ to +85℃. Power supplies with a wider operating temperature range are needed to meet the actual use requirements.
URF1D_FB-400(H)WR3 series has a wide operating temperature range from -40℃ to +100℃, with an excellent temperature derating curve, and low component heat, significantly improving product lifespan and reliability.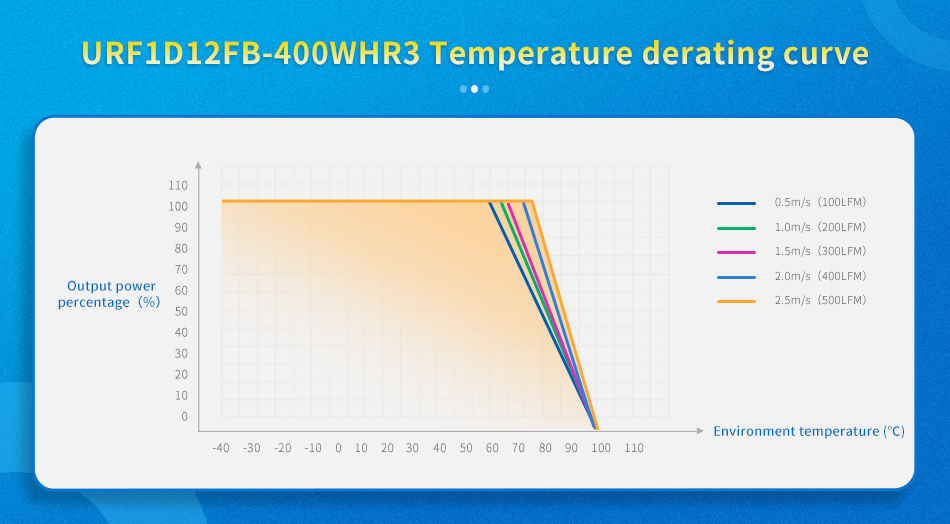 2. 3000VAC Reinforced insulation to meet high safety requirements
Railway EN50155 standard has high requirements on safety such as the maximum insulation input-output voltage of 1500VAC, and also strict requirements on EMC, shock and vibration, extreme temperature, high humidity, etc.
URF1D_FB-400(H)WR3 series features reinforced insulation input-output voltage of 3000VAC, input-case voltage of 2100VAC, and output-case voltage of 1500VAC. The design complied with the safety design requirements, and meet the railway industry power standard requirements.

3. Vacuum Potting technology improves reliability
The vast majority of electronic devices are hung on the vehicle bodies or placed in the vehicle box, which must meet the requirements of vibration Class I Level B.
URF1D_FB-400(H)WR3 series adopts vacuum potting technology, which can strengthen the immunity to external impact and vibration. On the other hand, vacuum potting technology makes the components and wires avoid exposure to the air, improves the insulation, and further improves product reliability.
Applications
URF1D_FB-400(H)WR3 can be widely used in railway systems and associated equipment.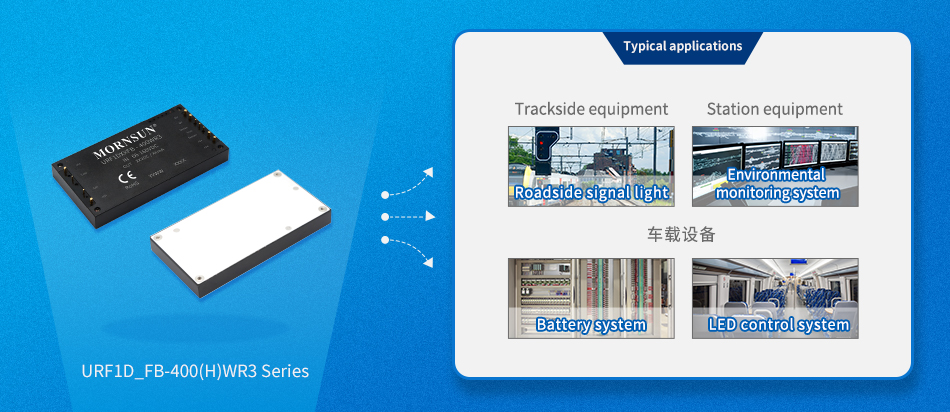 Features
Reinforced insulation, Input-output voltage 3kVAC, Input-case voltage 2.1kVAC, Output-case voltage 1.5kVAC

High efficiency up to 92%

Operating temperature range: -40℃ to +100℃

Input under-voltage, output over-current, over-voltage, short-circuit over-temperature protections

Meet IEC/EN/UL62368/EN50155/EN45545 standards
* For detailed information please refer to the related datasheet, product news is for reference only.