SMD Compact Size, Active High Precision Signal Conditioning Modules - TE-T Series
MORNSUN released a signal conditioning module TE-T series, which can isolate and convert the micro-signal accurately by extra-excitation.
The TE-T signal conditioning modules are designed to accept input signals of either 4~20mA or 0-5V. The PCB design and SMD compact size package, not only make the whole system more reliable but also make mass production more efficient.

MORNSUN not only applies the power IC to the TE-T series but also pre-packages the transformer, which further enhances the integration and reliability of the product.


Applications of TE-T Series
Widely used in applications of instrumentation, industrial control, petrochemical, power monitoring.
A typical application: Flowmeter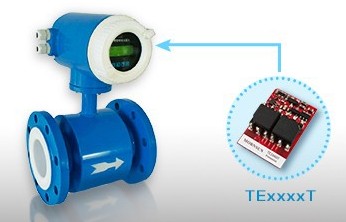 General application block diagram: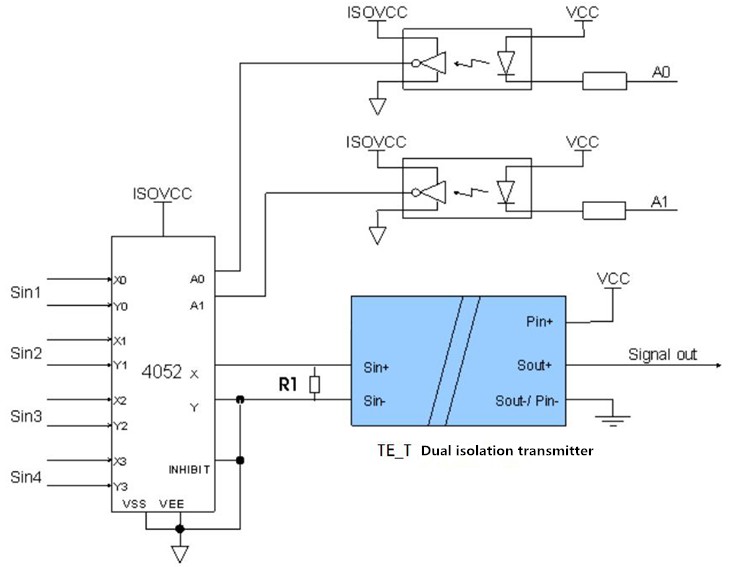 In above figure, Sin1 to Sin4 are external input voltage signals, A0 to A1 are strobe signals, and Signal out is an external input signal received by the control system. In the circuit, the optocoupler realizes the isolated transmission of the strobe signal, the TE-T series realizes the isolated transmission of the signal and the isolated power supply, and the multi-channel signal strobe chip 4052 realizes the selective transmission of the multiplexed signal.
Feature of TE-T Series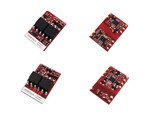 ● Two-port isolation (signal input and signal output)
● High linearity of 0.1% full scale
● Isolation test voltage 2kVAC for the 60s
● Low ripple & noise: 30mVpp.TYP,20MHz
● Extremely low-temperature coefficient of ≤50PPM/℃ over the entire range from -40℃ ~ +85℃
● Full and zeros adjustment functions
● Compact size: SMD16 Package (21.00*14.50*6.10mm)
● ESD protection (IEC/EN61000-4-2 Contact ±4KV perf. Criteria B)