150W 250-1500VDC Ultra-wide Input Voltage DC/DC Module - PV150-29Bxx Series
Mornsun launched a 150W 250-1500VDC ultra-wide input voltage PV series PV150-29Bxx.Till now, the ultra-wide input voltage PV family covers output powers including 5W, 10W, 15W, 40W, 120W, 150W, 200W.
The new PV150-29Bxx series features 4000VAC isolation voltage and a wide input voltage range of 250-1500VDC. Its efficiency is up to 84% at 800V input voltage. PV150-29Bxx series also provides output voltages of 12V, 15V, 24V, 48V.
In addition, -40℃ to +70℃ industrial operating temperature range(the derating of output power is lower than 65% during the temperature of 55℃ to 70℃), and meeting 5000m altitude application requirements(no derating ≤2000m) make PV150-29Bxx series idea for environments of thin air and outdoor high altitude with large temperature difference day and night.
Applications:
Widely used in applications of photovoltaic inverter system and tracking system.

Features: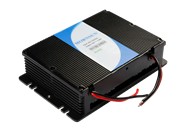 1. Ultra wide input voltage range: 250 - 1500VDC
2. Wide applications
● Industrial grade operating temperature: -40℃ to +70℃
● Meets 5000 altitude requirements
3. High reliability
● 4000VAC high isolation voltage
● MTBF over 300,000h
● High efficiency, low ripple & noise, high reliability, long lifespan
● 3 years warranty
● Input under-voltage protection, reverse input voltage protection, output short circuit, over-current, over-voltage protection
● Meets CSA-C22.2 No.107.1, EN62109 standards