1/8 brick non-isolated buck-boost DC DC converter KUB4836EB(F)-10A(-RS)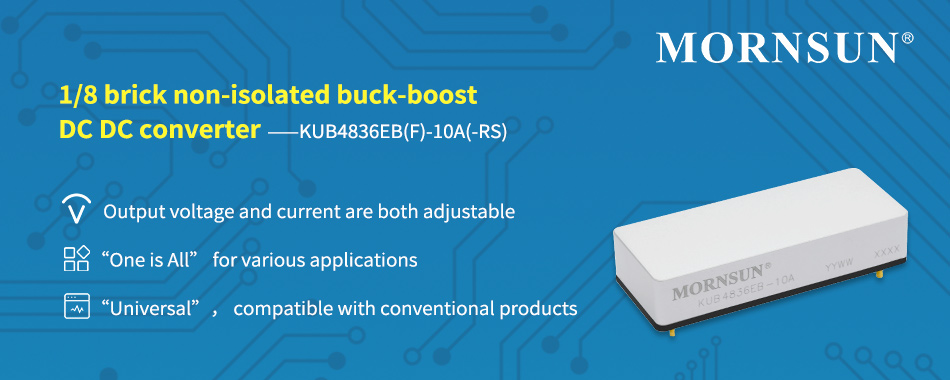 Introduction

KUB4836EB(F)-10A(-RS) is a 1/8 brick non-isolated step-up & step-down DC/DC converter, meeting the customer's demand for adjustable output voltage and current.
This DC/DC module has an ultra-wide input voltage range of 9-60V, an adjustable output voltage range of 0-60V, and adjustable output current range of 0-10A. We could get different outputs fit for various applications.
● Suitable for a wide range of applications and save costs
The product is compatible with multiple bus voltages of 12V,24V, and 48V. "One is All" can reduce customers' costs of sourcing, management, and production efficiency. For example, in the past, when converting 24V to 12V, 24V to 48V, etc., we need to purchase various input and output products separately to meet the different demands, but now only ONE KUB4836EB(F)-10A(-RS) for ALL.
● Adjustable output voltage range of 0-60V
In the applications such as robotics, drones, battery charging, and discharging, we may encounter the problems of a large output line loss, variation of the motor voltage and speed, switching of constant current and constant voltage, etc. In these cases, fixed input and output power supply products can't fulfill the demand, and the KUB4836EB(F)-10A(-RS) is the ideal solution.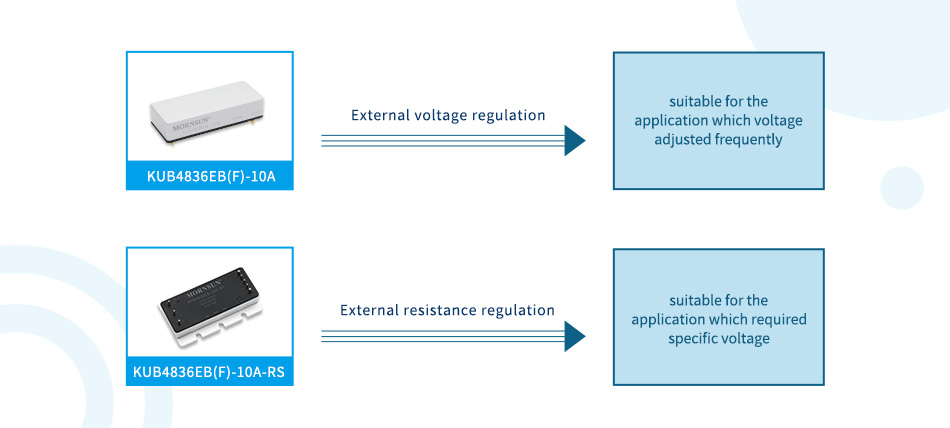 ● Manufacturing automation, short lead time and local service
Manufacturing Automation with SMD reflow soldering for all components ensures product quality and reliability. The five-sided metal shell simplifies the assembly process and achieves good heat dissipation. In addition, we provide a short lead time and local support.
Applications
The KUB4836EB(F)-10A(-RS) series can be used in applications of robotics, communication, UAV, battery charging and discharging, DC-DC distributed power supply, etc.
Typical application: Robotics

Application case: pipeline robot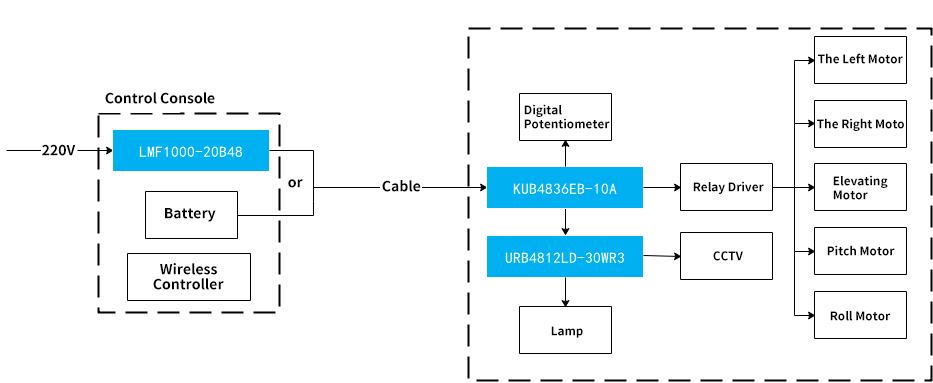 Robot System Architecture
Features
● Input voltage range: 9 - 60V
● Output voltage range: 0 - 60V
● Output current range: 0 - 10A
● Output voltage and current are both adjustable
● High efficiency up to 95%
● Input under-voltage protection, output short-circuit protection, over-temperature protection
● Operating ambient temperature range: -40℃ to +105℃
● Industry-standard 1/8-Brick package and pin-out
* For detailed information please refer to the related datasheet, product news is for reference only.