MORNSUN 20W High Isolation Medical Power URH-LP-20WR3 Series
MORNSUN new high isolation URH-LP-20WR3 series targeting medical application is designed to meet safety standard 60601-1 3rd edition for 2xMOPP and EN62368 standard. This new URH-LP-20WR3 series features low leakage current (<5µA) and 8mm transformer creepage & clearance to ensure the safety of patients. It also offers 5000VAC high isolation voltage, ultra-wide 4:1 input voltage range, and high efficiency up to 89%. Moreover, it has complete protections such as over voltage, short circuit, etc, and meets CISPR32/EN55032 CLASS A without extra components.
Applications:
URH-LP-20WR3 can be widely used in medical equipment and medical products that have direct contact with patients.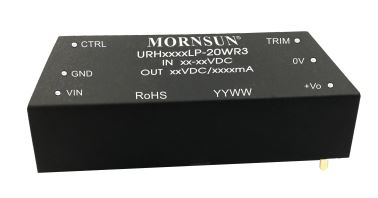 Features:
> Reinforced I/O isolation test voltage 5000VAC
> Ultra-wide 4:1 input voltage range: 9~36VDC,18~75VDC
> Operating ambient temperature range: -40℃ ~ +85℃
> Low leakage current < 5 µA
> High efficiency up to 89%
>

No-load power consumption as low as 0.12W
> Meets CISPR32/EN55032 CLASS A, without extra components
> Transformer creepage 8mm, Transformer clearance 8mm
> Meets 2xMOPP EN60601-1 third edition medical certification standard (Pending), EN62368 standard (Pending)
> Input under-voltage, output short-circuit, over-current, over-voltage protections