1-5W Non-isolated AC/DC Converter in "305RAC"Family——LSxx-K3BxxSS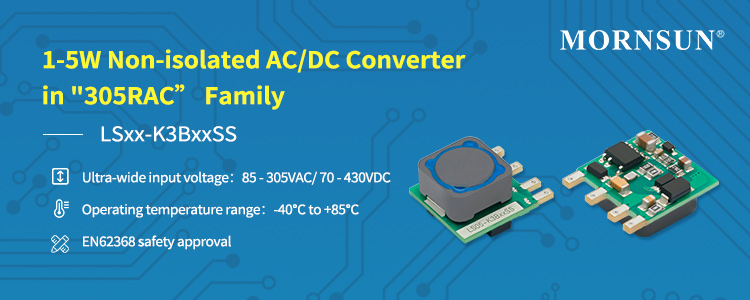 Introduction
Aiming at miniaturization, the lightweight, non-isolation trend of IoT and smart home applications, MORNSUN launched ultra-light and compact non-isolated AC/DC power supplies with 1~5W in the "305RAC (reliable under all conditions)" family——LSxx-K3BxxSS. The series with 5W is only 16.13 * 15.10 * 9.50mm, and it also features low consumption of 0.1W and high efficiency of 77%.
Advantages

1)Miniaturization and lightweight
The dimensions are only 16.13 * 15.10 * 9.50mm, and the weight is only 4.5g, which greatly improves the space utilization for customers.
2)Wide input voltage:85 - 305VAC/70-430VDC
This series meets global voltage requirements such as 110/220/277VAC standard voltages;
3)All-round periphery
The series shoots customer's troubles with the all-matching core design with a flexible peripheral circuit. By adopting different peripheral circuits, the series can be used in almost all applications including low-cost consumer products and even high-end power for extremely harsh outdoor environments.
4)Low consumption and high-efficiency
a. No-load consumption as low as 0.1W;
b. The efficiency by up to 77%.
Application
It is widely used in the non-isolated applications of IoT and smart homes, such as motor control, relay control, microcontroller, etc.

Features
Ultra-wide input voltage:85 - 305VAC/ 70 - 430VDC
Operating temperature range:-40℃ to +85℃
Compact size, open frame
The efficiency of up to 77%
Industrial-grade design
Flexible selection of EMC additional circuits, simplify customer PCB layout
Output short circuit, over-current protection
EN62368 safety approval
* For detailed information please refer to the related datasheet, product news is for reference only.