High Efficiency Non-isolated DC-DC Converter——K78xx-2000R3 Series
MORNSUN adds a new switching regulator series

K78xx-2000R3

rated at 2A to its non-isolated DC-DC converter family, which

is designed to be a drop-in alternative to traditional 78xx series three-terminal linear regulators.
The series features an ultra-wide input voltage range of 6-36V, 0.1mA ultra-low no load input current, continuous short-circui

t protection, low ripple noise (typ.: 30mV), etc.. The new 2A series can also accommodate operating temperature from -40°C to

+85°C.
Besides, this series delivers efficiencies up to 95%, eliminates the need for a heat sink, cuts additional design space and

installation cost, making it suitable for use in industrial control, medical, mining, railway and other related industries.
Features:
▶
High efficiency up to 95%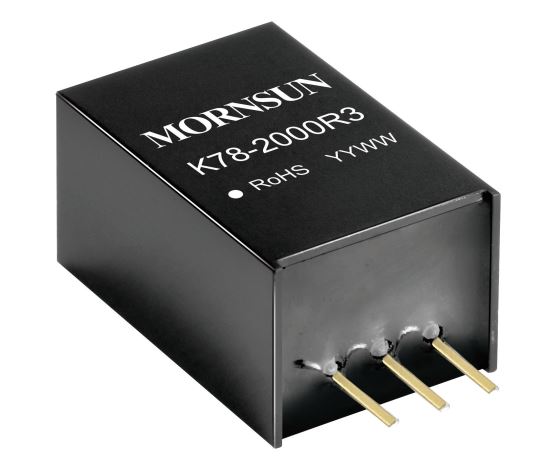 ▶
No-load input current as low as 0.1mA
▶
Operating temperature range: -40℃ to +85℃
▶
Output short circuit protection
▶
Pin-out compatible with LM78XX linear regulators
▶ Meets EN62368 standards(Pending)