High Reliability DC/DC converter for 1700V IGBT/SiC MOSFET Driver --- QA-R3/QA_C-R3 Series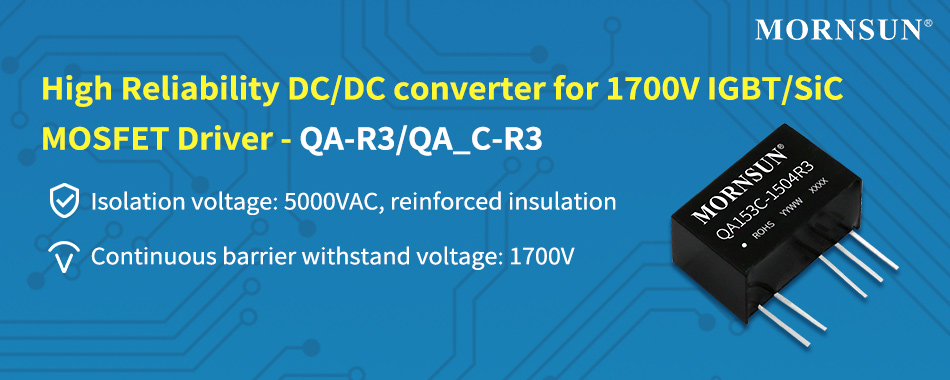 Introduction
New energy vehicles and the PV industry are constantly expanding the application range and requirements of semiconductor devices, including the key component of semiconductor devices in EV charging systems and PV SVG systems -- IGBT/SiC MOSFET, which also has higher requirements for driving solutions.
Based on the Independent circuit platform, IC platform, and process platform, MORNSUN launched the 3rd generation DC DC converter QA-R3/QA_C-R3 Series special for IGBT/SiC MOSFET Driver. The QA_H-R3/QA_HC-R3 Series creepage distance meets the 1700V system power application, making it the optimal and reliable DC/DC converter of the driving solutions.
Advantages
Isolation voltage: 5000VAC, reinforced insulation
Based on MORNSUN independent IC design, R3 series' isolation voltage up to 5000VAC, higher than the conventional products on the market (3750VAC), and meet the requirements of reinforced insulation, the overall reliability has been greatly improved.
Continuous barrier withstands voltage 1700V
As the mainstream semiconductor devices, most IGBT/SiC MOSFET on the market are used in middle and low voltage applications where the voltage is 650V/900V/1200V/1700V.
Comply with IEC-61800-5-1 standard, the R3 series features a continuous barrier to withstand voltage (continuous discharge) up to 1700V, which can be used for the IGBT/SiC MOSFET devices that their voltages below 1700V. The creepage distance of QA_H-R3/QA_HC-R3 is greater than 14.14mm.
Multiple performance indicators improved
Compared with the R1 series, the performances of the R3 series have been optimized:
1. Efficiency increased: 80% → 87%
2. Ripple reduction: 75mVpp → 50mVpp
3. Capacitive Load increased: 220uF → 2200uF
4. ESD performance increased: ±6kV → ±8kV
5. Isolation capacitance reduction: 6.6pF → 3.5pF
Applications
QA-R3/QA_C-R3 Series can be widely used in the IGBT/SiC MOSFET driving solutions of the PV inverter, Motor driver, and EV charging.

Taking the PV SVG system as an example, it provides the power supply to the driver chip to make sure the IGBT/SiC MOSFET running effectively.
Features
Isolation voltage: 5000VAC (reinforced insulation)

Continuous barrier withstands voltage 1700V

Efficiency up to 87%

Compact size SIP package

Max. Capacitive Load: 2200µF

Ultra-low isolation capacitance: 3.5pF (typ.)

Operating temperature range: -40℃ to +105℃
DC/DC Converter Selection guide
Input voltage

0.5V

12V

15V

24V

For the Single-output IGBT driver module

QA053-R3

QA123-R3

QA123H-R3

QAW123-R3

QA153-R3

QA153H-R3

QA243-R3

QA243H-R3

For Single-output SiC MOSFET driver

QA053C-R3

QA123C-R3

QA123H-R3

QA153C-R3

QA153HC-R3

QA243C-R3

QA243HC-R3

For Dual-output applications, please contact our sales team for more details.
* For detailed information please refer to the related datasheet, product news is for reference only.