MORNSUN DC – DC Isolated SMD Converter Transformers
MORNSUN launched DC-DC isolated SMD converter transformer series - TTB0505-1T, TTURA/B-6/10T and TTURB-20T. These new transformer series not only have an isolation voltage of 1650VDC, features compact size and cost effective, but also have an operating ambient temperature range of -40℃ ~ +125℃.


TTB0505-1T can be used together with MORNSUN SCM1201A push-pull control IC, which is suitable for electric isolation applications that needs output power of 1W or less, 5V input voltage, 5V output voltage, such as pure digital circuits, low frequency analog circuits and data switching circuits. TTURA/B-6/10T and TTURB-20T series can be used together with MORNSUN SCM1101A secondary feedback control IC to achieve 6W to 20W flyback power supply design with 4:1 wide input voltage range and various protection function and superior EMI performance, which are suitable for applications in electricity, instrumentation, industrial control, communication.
Application circuit: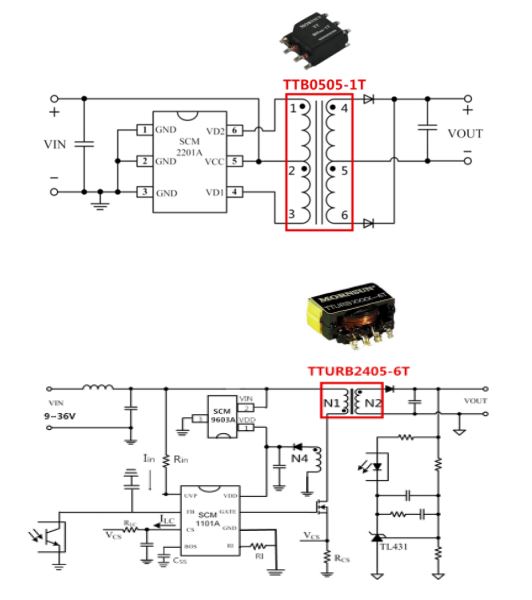 Features:

- Compact SMD package
- Isolation test voltage 1.65k VDC
- Operating ambient temperature range: -40℃ ~ +125℃
- TTB0505-1T series for 5V input voltage and 5V output voltage only
- 4:1 wide input voltage for TTURA/B-6/10T and TTURB-20T series
- TTURA/B-6/10T and TTURB-20T series features high saturated flux density, low DCR loss, class F insulation, meets EN62368 standards
---