Automotive High Speed CAN Bus Transceiver - SCM3425ASA

After the three high reliability CAN transceivers modules (SCM3421A/SCM3422A/SCM3423A), MORNSUN launched the brand-new SCM3425ASA which meets the AEC-Q100 standard for the automotive industry.
The SCM3425ASA bus input voltage range is -42VDC to +42VDC and it features high electromagnetic immunity, low electromagnetic emissions, bus pins protected against transients, over-temperature protection, and support CANFD.
Applications of SCM3425ASA can bus transceiver
Mornsun automotive high speed automotive CAN transceiver SCM3425ASA can be widely used in Automotive Electronics, IoT, Industrial electronics, etc.
Automotive electronic control unit (ECU) diagram: (SCM3425ASA can be applied to the bus)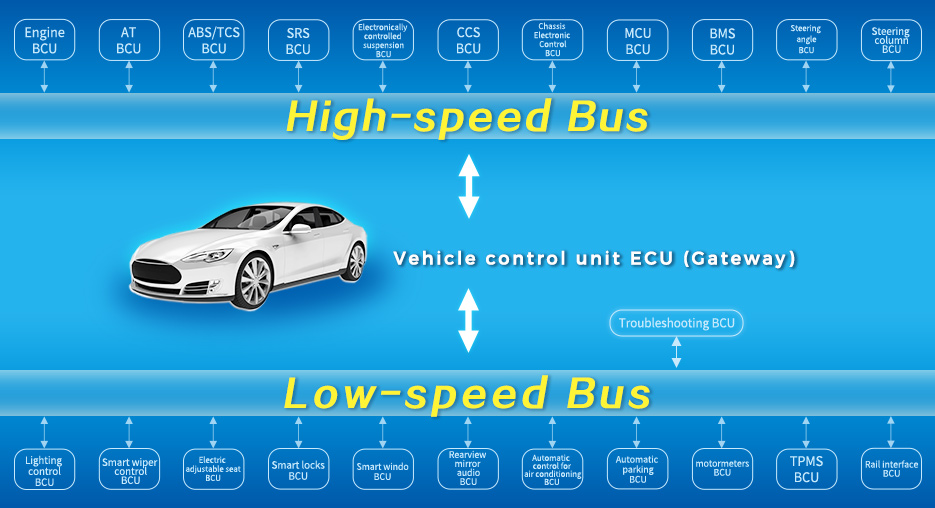 MORNSUN transceiver modules include CAN,RS485,RS232, which can meet your needs in many applications.
Typical application circuit diagram of SCM3425ASA.

*VIO instruction: The VIO can support 3.3V and 5V MCU systems. It should be connected to VCC when supply to 5V MCU; it should be disconnected from VCC when supply to 3.3V MCU.
Features of SCM3425ASA CAN transceiver
Meet AEC-Q100 automobile standard

High-speed CAN, Support CANFD and data rates up to 5Mbps

High electromagnetic immunity, low electromagnetic emissions

5V power supply, 3.0-5.5V IO interface

Bus fault protection: ±42V

Strong load capacity, allowing up to 110 load nodes

Compatible with the "ISO 11898" standard fully
* For detailed information please refer to the related datasheet, product news is for reference only.