Safe, High quality and Cost-effective, Residual Current Transducer for EV Charging - TLB6-A1 Series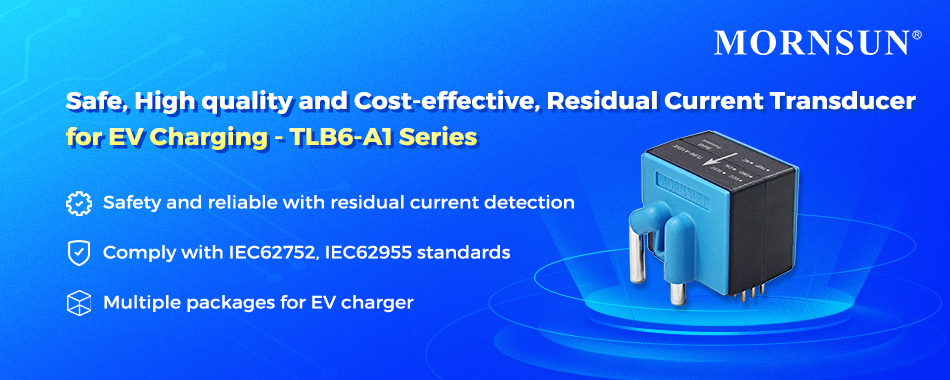 The rapid growth of the new energy vehicle industry has resulted in charging stations becoming ubiquitous in residential and commercial areas. As a public facility, it is of paramount importance to ensure the safety of these charging stations. One essential responsibility for all manufacturers is to prevent any charging leakage that may occur during the charging process.
Through extensive market research and years of technical experience, MORNSUN has the unique circuit technology and introduced the TLB6-A1 series, a safe and reliable residual current transducer for EV chargers.
Advantages
The TLB6-A1 Series presents itself as a versatile and reliable solution for the EV charger. By adopting fluxgate detection technology, it can detect residual current types such as DC, AC, and various pulsating residual currents, and meet the IEC62752 (mode 2) and IEC62955 (mode 3) residual current detection standards. It can detect the 6mA DC residual current, with a sensitive trigger for timely response to leakage events.
1. Safety and reliability with residual current detection
The product detects Type A + 6mA leakage current, which has a safer solution than the Type A products on the market.
2. Comply to IEC62752、IEC62955
TLB6-A1 series is designed to comply with IEC62955 and IEC62752, and its product action time is much higher than that specified in the IEC62752 standard, which can achieve a faster response than the standard products and a safer system residual current detection.
The following is the measured data of TLB6-A1PV. Its action time is far superior to the standard regulation.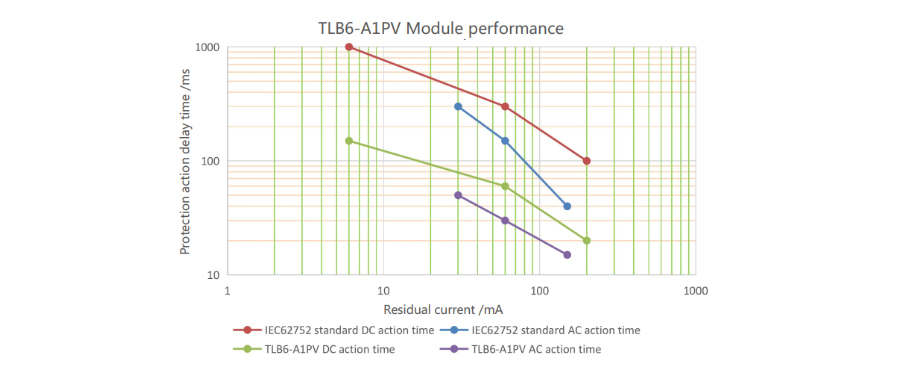 3. Multiple packages for a wide range of applications
The TLB6-A1 series covers a variety of packages such as PCB mounted, PCB mounted with Bus-bar, and wired, which can flexibly match various application scenarios and provide more choices for users.

4. High quality and Cost-effective
Smaller and highly integrated due to the adoption of an indigenously-developed IC
Automated production makes it more cost-effective and high-consistent
High reliability, excellent performance, and faster response make it a top choice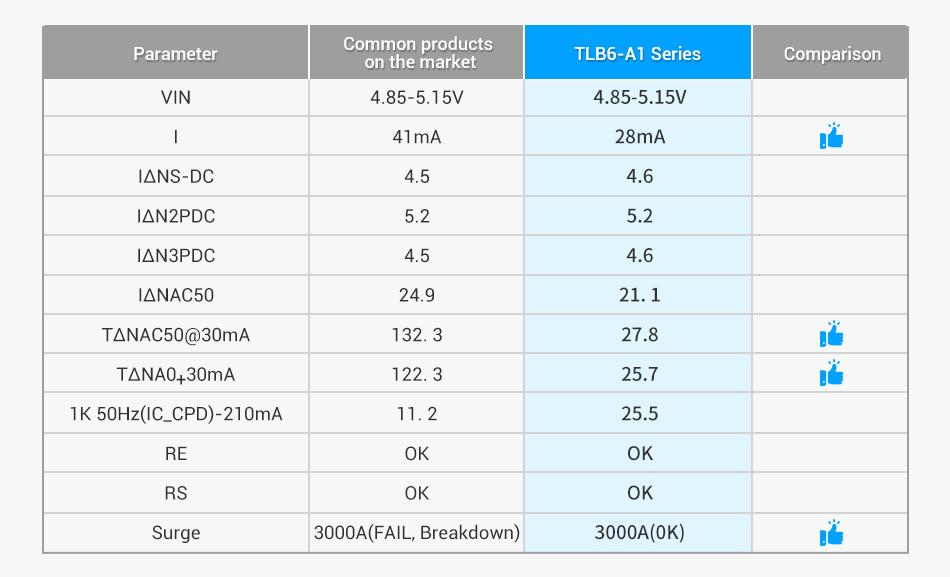 5. Worry-free after-sales service
① The TLB6-A1 series can be used with MORNSUN's AC/DC power module, DC/DC power module, and communication module, providing a comprehensive solution for users.
② In an EV charger system, EMC and certification play a critical role. The MORNSUN FAE team has extensive experience in EMC rectification and can assist users in resolving any EMC issues they may encounter.
Applications
Residual current detection and protection is a fundamental part of every charging pile, as it directly impacts personal safety and plays an essential role in preventing fire hazards caused by persistent ground fault currents.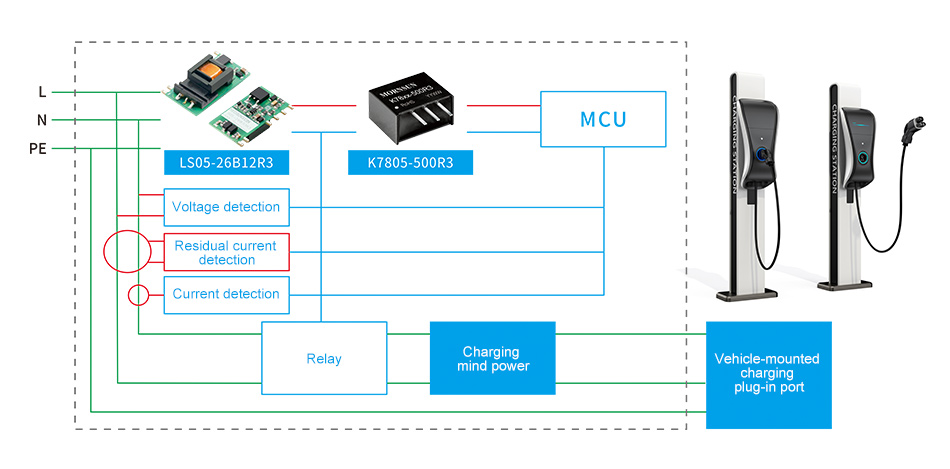 Accurate measurement of current at key points can timely feedback leakage and other abnormal conditions, avoiding the occurrence of safety accidents. Thus, when charging an electric vehicle, it's crucial to maintain stable current levels to ensure a safe and smooth charging process.
Features
Safety and reliability with 6mA residual current detection

Meet IEC 62752: 2018 (IC-CPD)

Meet IEC 62955: 2018 (RDC-PD)

High response

Outstanding EMS performance

3,000 A surge in current capability
* For detailed information please refer to the related datasheet, product news is for reference only.