Chip-level DC/DC converter for automotive and medical--B0505ST16-W5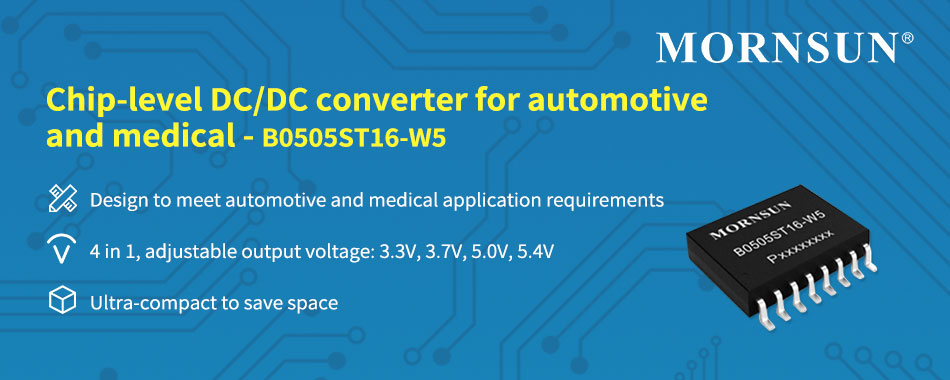 1) Newly Chip-level DC to DC converter
Based on the trend of chip integration, MORNSUN launches the chip-level isolated DC/DC converter B0505ST16-W5 for high-end applications. This chip-level DC to DC converter B0505ST16-W5 adopts a new generation technology, improving internal circuit technology and electrical performance to achieve miniaturization and functional integration. It's the ideal power solution for applications of automotive electronics, medical equipment, electricity, industrial control, etc.
2) Design to meet automotive and medical application requirements
B0505ST16-W5 is a high-isolated and high-voltage DC-DC converter. It meets the isolation protection requirements of 2 MOPP and features an isolation voltage of 5000VAC, system operating voltage up to 849VDC, isolation capacitance as low as 3.5pF, and complies with IEC/EN 60601 standard.
Its working temperature range is as wide as -55℃ to +125℃, making it work stably in different harsh environments. It runs well with 55% load at 125℃, enabling it for applications of high temperatures, such as automotive electronics.
3) 4 in 1, 4 adjustable outputs of 3.3V, 3.7V, 5.0V, 5.4V achieved by TRIM
The chip adopts a unique control architecture with a built-in feedback loop, which can quickly respond to load changes and achieve regulated output. 4 different output voltages of 3.3V, 5V, 3.7V, and 5.4V can be precisely adjusted and realized by the pin TRIM. Using the same module to get different outputs for different devices can help to decrease the BOM list and reduce the management cost.
4) Ultra-compact to save space
This highly integrated product in SOIC16 (10.3 x 10.3 x 2.5mm) package is only 0.35g (Typ.). It is suitable for the space-limited design of handheld devices and portable devices to save customers PCB layout space, and perfectly match customers' usage scenarios and industrial technology trends.
Applications
B0505ST16-W5 chip-level DC DC converter can power various isolators and is mainly used in applications that require high withstand voltage, high isolation voltage, low isolation capacitance, low leakage current, and small size. It is suitable for automotive electronics, medical, electricity, industrial control, etc.

Features
● I/O isolation test voltage 5kVAC, reinforced insulation
● Electrical clearance/creepage distance ≥8mm, 2 MOPP
● Operating temperature range: -55℃ to +125℃
● Adjustable output voltage: 3.3V, 3.7V, 5.0V, 5.4V
● Integrated soft-start circuit to prevent inrush current and output overshoot
● Over-temperature, over-load and short-circuit protections
● SOIC16 package
● Design to meet AEC-Q100 standard
● Design to meet EN60601-1 standard