Small-size High-performance PCB-type Hall Current Transducer TLxx-Ax(T)PV Series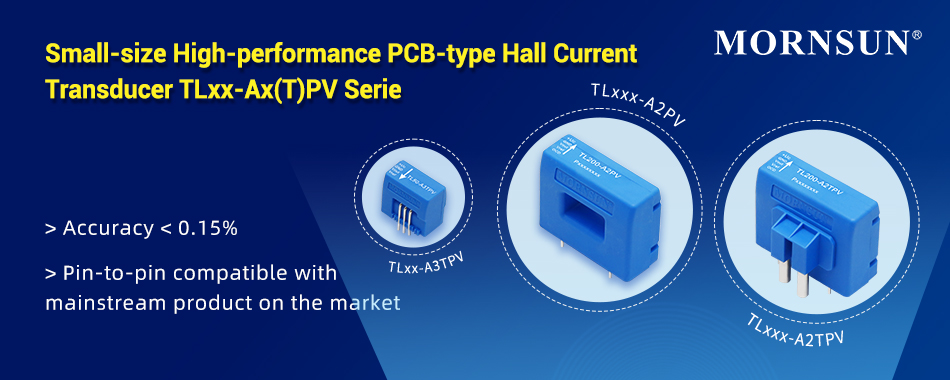 Introduction
Industry 4.0 has led to a rapid rise in demand for smart devices and current detection products.
Based on core materials and structural design innovation, MORNSUN launched the Closed-loop Hall current transducer TLxx-Ax(T)PV series with single power supply technology and compact PCB mounting design. This series is based on Hall closed-loop effect sensors for current detection, with the features of smaller size, better performance, and a lower price. It can be used for primary current detection and output isolated voltage signals.
Advantages
1. Superior materials
① The magnetic core material of high magnetic permeability and low coercivity allows the transducer to have a faster response and higher sensitivity
② Using Hall regulation IC as the core IC allows the transducer smaller in size, higher integration, and better consistency
2. Automatic production
① Highly automated manufacturing from winding, and SMD to packaging and shipping, ensures high quality, efficiency, cost-effectiveness, and low defect rate.
3. High accuracy
① Accuracy < 0.15%
② Relatively high measurement accuracy at ambient temperature. A data table is as follows: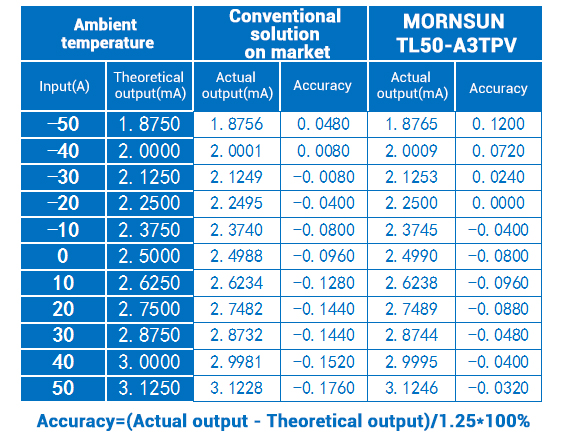 4. Strong compatibility
Pin-to-pin compatible with mainstream products on the market

Applications
TLxx-Ax(T)PV series suitable for Industrial control current detection applications with high accuracy, linearity, and temperature drift requirements. For example, Inverters, AC variable speed and servo motor drives, welding power supply, UPS uninterruptible power supply, battery power supply, inverter power supply, DC motor drive static converters, and DC Fast Charger, etc.

AC, DC, or pulse currents are measurable

Wide operating temperature range: -40℃ to +105℃

Outstanding Accuracy & Linearity (Linearity up to 0.1%, Accuracy up to 0.45%)

No insertion losses

High immunity to external interference

Single power supply technology and compact PCB mounting design
* For detailed information please refer to the related datasheet, product news is for reference only.