9-90VDC Input voltage Non-Isolated Switching Regulator—K78Uxx-500R3(L) Series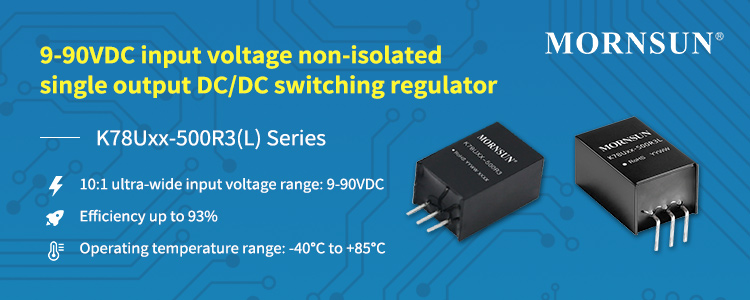 1. Introduction of K78Uxx-500R3(L) Series
MORNSUN newly released ultra wide input voltage range non-isolated DC/DC converter——K78Uxx-500R3(L), features an 10:1 ultra-wide input voltage range of 9-90VDC, operating temperature range of -40°C to +85°C, no-load input current as low as 1.5mA, and efficiency up to 93%, with output continuous short-circuit protection, high cost performance.

Note: Series with suffix "L" are available for 90° pin-out, K78Uxx-500R3L.
2. Applications of K78Uxx-500R3(L) Series
It can be widely used in applications requiring wide input voltage and constant voltage without isolation.

3. Features of K78Uxx-500R3(L) Series
● 10:1 ultra-wide input voltage range: 9-90VDC
● Efficiency up to 93%
● No-load input current as low as 1.5mA
● Operating temperature range: -40°C to +85°C
● Output continuous short-circuit protection
● Pin-out compatible with K78xx series
● International standard pin-out