120W Cost-effective DIN-rail AC/DC Converter—LI120-20BxxR2S Series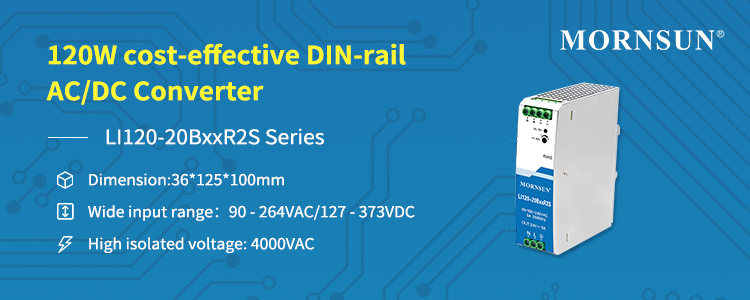 To address the challenges of product size requirement in applications, MORNSUN launches LI120-20BxxR2S series with the 120W and wide input voltage range of 90 - 264VAC/127 - 373VDC to meet customer needs for size and cost. With a dimension of only 36*125*100mm, the LI120-20BxxR2S series features low power consumption, high efficiency, strong anti-interference capability, good heat dissipation, and extremely cost-effective.
I. Product advantages are as follows
1) Smaller and lighter
The dimension is only 36*125*100mm and weight is only 410g, enabling customers to improve space utilization.
2) Good heat dissipation
This series optimizes the duct design and utilizes the shell for better heat dissipation.
3) Sophisticated structural installation to improve customer experience
In addition to the advantage of easy installation of DIN-rail package, the compact structure is a good solution to the use of multiple environments. Products can be easily applied to industrial control, LED, street lighting control, power, security, communications, smart home and other areas. It stands out in the low-cost competition, but also can be used in the industrial outdoor harsh environments to meet the high reliability requirements.
4)Quality Assurance
High reliability for multi-environment applications, 3-year warranty.
5) Cost-effective
The advanced design and manufacturing process make LI120-20BxxR2S a cost-effective power solution for customers' applications.
II. Product Applications of LI120-20BxxR2S
It can widely used in industrial control, LED, street light control, electric power, security, communication, smart home and other fields; It provide low-voltage bus power for industrial control, new energy, petrochemical and metallurgy, railroads, DC charging stations and other internal rail-mounted control cabinet systems.

III. Features of LI120-20BxxR2S
● Wide input range:90 - 264VAC/127 - 373VDC
● Operating ambient temperature range: -20℃ to +60℃
● Accepts AC or DC input (dual-use of same terminal)
● High I/O isolation test voltage up to 4000VAC
● Output short circuit, over-current, over-voltage, over-temperature protection
● DIN-rail TS-35/7.5 or 15 mountable
● 3s startup in low temperature and low voltage
● Ultra slim design with 36mm width: suitable for small chassis and narrow space installation
● Safety according to UL61010, UL508, EN62368