Isolated SMD Transformer for 6-20W DC/DC Converter ——CTTURA/B-6/10T Series、CTTURB-20T Series
MORNSUN recently launched two automotive-grade transformers for the 6-20W DC DC converter - CTTURA/B-6/10T series and CTTURB-20T series. The isolation voltage of transformers is up to 1650VDC, owning operating temperature from -40°C to +125°C, and featuring small size and high-cost performance. The transformer components meet the AEC-Q200 test standards and meet the requirements of the automotive industry for high-reliability and small-dimension power supplies.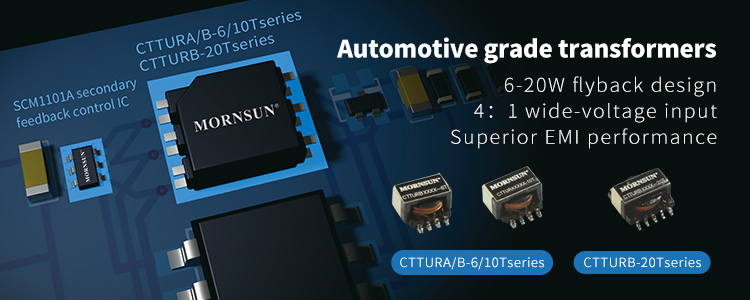 The CTTURA/B-6/10T series and CTTURB-20T series can be matched to use with the MORNSUN SCM1101A secondary feedback control IC. The combination facilitates 4:1 wide-voltage input and 6-20W flyback design with multiple protections and superior EMI performance.
Application of CTTURA/B-6/10T Series and CTTURB-20T Series

It widely is used in electricity, instrumentation, industrial control, communication industry, and so on.

Application Circuit: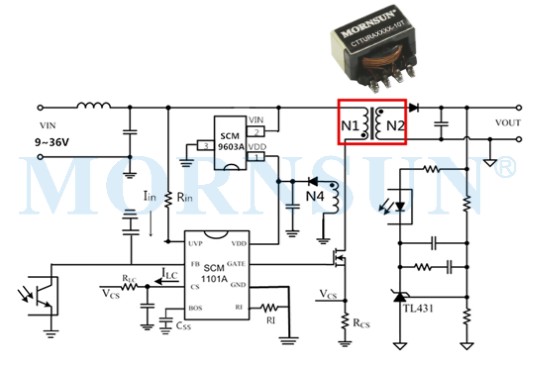 Features

of CTTURA/B-6/10T Series and CTTURB-20T Series

● Apply to 6-20W
● Ultra-wide 4:1 input voltage range
● Small dimension,SMD package
● I/O isolation voltage 1650VDC
● High saturate induction density
● Meets AEC-Q200 standard(pending)
● Insulation class: Class F
● Meets EN62368 certificate
● Operating temperature range:-40℃ to +125℃