16-75V Input Non-isolated DC/DC Converter with Open Frame Package- KUB48-QB-10A Series
MORNSUN's latest 16-75V input non-isolated DC/DC converter, KUB48-QB-10A, solves a difficulty, which is resulted by large fluctuations in battery voltage and motor interference in the logistics robot design. The product features an operating temperature range from -40 ° C to +85 ° C, the efficiency of up to 97%, and low heat loss, which is conducive to improving systematic reliability, bringing convenience to customers' thermal design, and owning under-voltage protection, output short circuit protection and overcurrent protection, etc.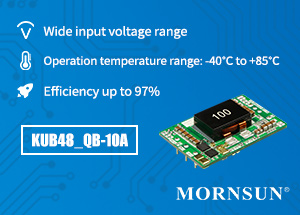 The development of this product is based on the current logistics industrial situation, which is, the increase in object sorting, handling workload and labor costs, and the rapid development of logistics robots. Isolated DC DC Converter KUB48-QB-10A can provide better power supply design for the robot system, and better meets the market's demands.


Application of Non-isolated DC/DC Converter KUB48-QB-10A Series
It widely is used in robots, battery-powered equipment, and other fields


Features of Non-isolated DC/DC Converter KUB48-QB-10A Series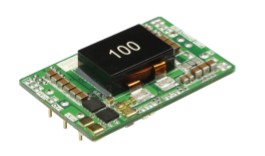 ● Wide input voltage range 16-75V
● Efficiency up to 97%
● Operating temperature range:-40℃ to +85℃
● Input under-voltage protection, output short circuit protection, and overcurrent protection
● Open frame
● 1/4 brick international pin
● Adjustable input start voltage (under-voltage)
● EN62368 approval