15-150W AC/DC enclosed power supply LMxx-23Bxx in 305RAC family, reliable under all conditions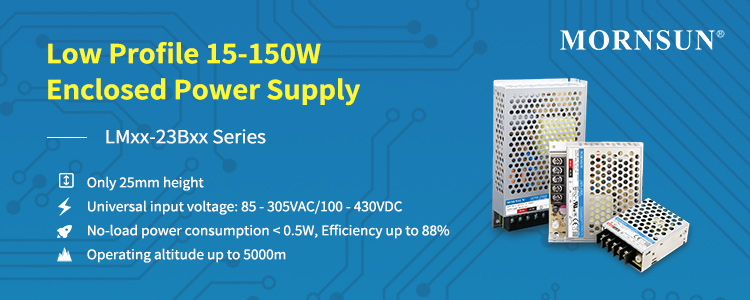 Introduction of 305VAC Input 15-150W LMxx-23Bxx
The LMxx-23Bxx series of enclosed power supply in MORNSUN 305RAC(reliable under all conditions) family, it can be used not only in the normal operating conditions, but also in applications with higher requirements for input voltage, temperature, humidity, altitude, and electromagnetic interference for long time. The input voltage range is as wide as 85-305VAC, and the power range covers 15-150W. The only 25mm height is more superior to the industry level. At the same time, it has the advantages of isolation voltage as high as 4000VAC, no-load power as low as 0.5W, and efficiency as high as 88%. It adopts a double Y design and meets IEC/EN/UL62368/CCC standards.
Operation Condition of 305VAC Input 15-150W LMxx-23Bxx

The input voltage range is 85-305VAC/100-430VDC, which solves the three major shortcomings of conventional 85-264VAC input products:
a. The universal input voltage of 85-305VAC covers the standard voltage of 110/220/277VAC.
b. It solves the power failure caused by voltage fluctuations in grid power distribution or generator.
c. It can also work normally under the transient high input voltage (the input voltage exceeds 264VAC when the device is turned off).
2) High Altitude
It meets the 5000m altitude application, and the product has passed a high/low-temperature altitude test, long-term aging test, etc.
3) EMI
a.EMI meets CLASS B reducing harm to the human body and interference to other equipment;
b.Surge immunity is up to 4KV, strong anti-interference ability is suitable for harsh environment applications.
4) High/Low Temperature
The wide operating temperature range is -30℃ to +70℃. The product can still work at full load and has a strong start-up ability while at a low temperature of -30℃; when it is running at 70℃, the temperature rise of product components is low and the service life is long.
In order to meet the diversified application, MORNSUN has simultaneously launched extended models:
LMxx-23Bxx-Q:It has a three-proof paint process and features excellent insulation, multiple resistance of moisture, leakage, vibration, dust, corrosion, aging, corona, and other properties, which is suitable for harsh industrial environments.
LMxx-23Bxx-C:It has a terminal cover that can prevent the human from touching the terminal by mistake.
Application of 305VAC Input 15-150W LMxx-23Bxx
305VAC Input 15-150W LMxx-23Bxx can be widely used in industrial control, LED, street light control, electricity, security, telecommunications, smart home, etc. And it is suitable for those applications with high requirement of dimensions and EMI.

Features of 305VAC Input 15-150W LMxx-23Bxx in 305RAC family
● Universal input voltage: 85 - 305VAC/100 - 430VDC
● Accepts AC or DC input (dual-use of same terminal)
● Operating temperature range: -30℃ to +70℃
● Efficiency up to 88%
● Low standby power consumption: < 0.5W
● I/O isolation voltage: 4000VAC
● Output short circuit, over-current, over-voltage protections
● Safety according to IEC/EN/UL62368, GB4943 (Pending)
● Withstand 335VAC surge input for 5s
● Over-voltage class Ⅲ (designed to meet EN61558)
● Operating altitude up to 5000m
* For detailed information please refer to the related datasheet, product news is for reference only.