Cost-effective Compact Size SMD Open Frame LED Driver - KC24JT Series
Mornsun launched a DC-DC Step-down constant current LED driver -KC24JT-xxxR3 series. The new KC24JT-xxxR3 series features a wide input voltage range of 6-36Vdc , dimension of 21.50 x 16.72 x 5.20 mm, and has analog dimming and PWM dimming functions. Besides, its output can drive 10 LED lamps with rated voltage of 2.8-3.3V at ±2% high precision constant current, and the conversion efficiency is up to 94%. What's more, the continuous short circuit protection of this new products can ensure customers' equipment work normally.
Applications:
Widely used in applications of 6V, 12V, 24V, 30V automotive lighting, landscape lighting, home lighting.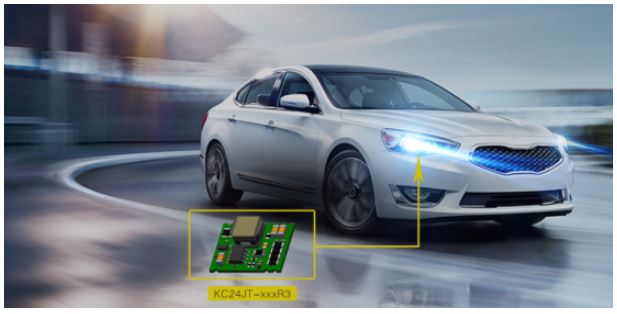 Features:
● Open frame, SMD, ultra compact size: 21.50 x 16.72 x 5.20 mm
● Ultra-wide input voltage range (6-36VDC)
● Analog dimming+PWM dimming
● Output current up to 700mA
● High efficiency up to 94%
● Operating temperature range: -40℃ to +71℃
● Continuous short circuit protection