50W 80-750Vdc input voltage DC/DC converter for Energy Storage Industry-- PV50-25Bxx Series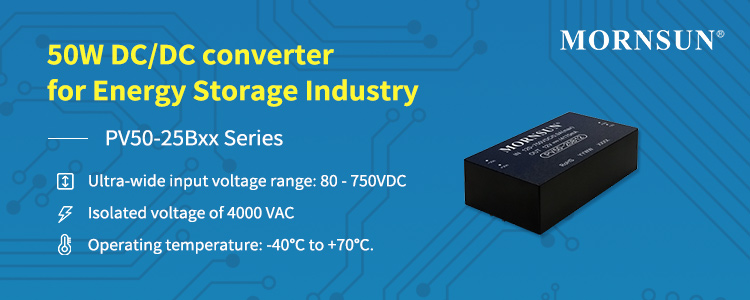 Introduction of PV50-25Bxx Series
The intensive development of the PV energy storage industry during the recent past has created a market demand for more home energy storage and small commercial energy storage systems.
Mornsun 50W PV50-25Bxx for PV energy storage with 12 and 24V outputs, which is designed for the practical demand of the energy storage industry, effectively solves customers' problems of energy storage applications.
PV50-25Bxx has the advantages of compact size, wide input voltage range, wide operating temperature, high isolation voltage, high reliability, and long life, etc., and meet UL1741, EN62109 certification standards.
Performance and advantage of PV50-25Bxx Series:
1)wide input voltage range:
PV50-25B12:120-750VDC
PV50-25B24:80-750VDC
100-750VDC input voltage range meets the requirements of the small commercial energy storage, and PV50-25B24 has an input voltage as low as 80V.
2)High reliability, meet UL1741, EN62109 certified standards
a. Isolated voltage of 4000 VAC
b. Multiple protections of Input under-voltage, reverse polarity protection, output short-circuit, over-current, and over-voltage
3)Wide operating temperature range, low power consumption, high efficiency
a. Operating temperature range: -40°C to +70°C
b. Efficiency up to 85%
4) Small size in-line package
Save customer system space, simplify assembly work
Application of PV50-25Bxx Series:
PV50-25B12/24 can be widely used in energy storage applications, and especially satisfy the demand for safety and reliability of electricity for home energy storage and small commercial energy storage. It provides a stable working voltage for load equipment, and its multiple protection functions can enhance the safety performance of the power supply and its load in case of abnormal operation of the switching power supply.

Typical application: Energy storage management system/ Battery management system
Features:
● Ultra-wide input voltage range:
● PV50-25B12: 120 - 750VDC
● PV50-25B24: 80 - 750VDC
● Operating temperature: -40℃ to +70℃.
● Efficiency up to 85%
● 5000m altitude application
● Meets UL1741, EN62109 certification standards
● Multiple protections of Input under-voltage, reverse polarity protection, output short-circuit, over-current, and over-voltage