1W/3W Ultra-light Compact Size Non-isolated AC/DC converter --LSxx-K3BxxSS Series
MORNSUN recently launched an ultra-light compact size non-isolated AC/DC converter series LSxx-K3BxxSS, which requires minimal peripheral components, features flexible use and can convert AC to DC directly. Its nominal output voltage 5V and 12V are available now.
Product advantages:

● Miniature
This non-isolated series has a small size of 25.21*9.5*17.43mm, and it is lighter and higher cost effective without the traditional transformer.
● Minimal peripheral components

Minimal peripheral components required, flexible use and easy to operate.

● High reliability and complete protections

This series has a MTBF over 300,000 h and provide protections of output short circuit (OSC), output over-current (OCP), which not only significantly reduce the failure rate of the converter itself but also enhance the safety performance of back-end power modules and the load in abnormal working conditions.

● Meets the latest safety standards

It is designed to meet IEC/EN/UL62368 safety standards (EN62368 pending).
Design reference: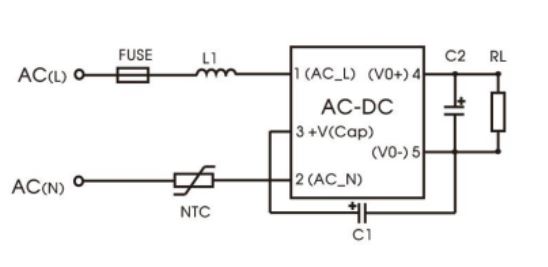 Applications:
Widely used in IoT, smart home, instrumentation, industrial control, communication and civil applications.
● Ultra-wide 85 - 305VAC and 70 - 430VDC input voltage Range
● Operating temperature: -40℃ to 85℃
● Ultra-light compact size open frame
● Regulated output, low ripple & noise
● High reliability, green power
● Flexible selection of EMC additional circuits, simplify customer PCB layout
● Output short circuit, output over current protections
● Designed to meet IEC/UL/EN62368 safety standards(EN62368 pending)
* For detailed information please refer to the related datasheet, product news is for reference only.