40-120W 85 - 900VAC Input Voltage Power Supply PVAxx-27Bxx Series for Coal Mines Applications
Mornsun released a new high voltage power supply PVAxx-27Bxx series which is specialized for the electrical equipment in coal mining. The new series PVAxx-27Bxx covers output powers of 40W, 70W, 120W now.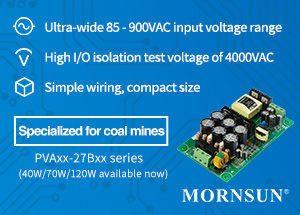 PVAxx-27Bxx series has an ultra-wide and ultra-high input voltage range of 85-900 VAC, which meets the requirements of voltage fluctuations such as 127/220/380/660VAC in coal mining. The dimensions of PVA40-27Bxx series(138*82*32mm) and PVA70-27Bxx series (155*95*41mm) are smaller than the traditional solution of industrial frequency transformer with AC/DC power supplies. Besides, they only have one input port and don't need to change the wire, which can completely avoid the risk of wrong connection and save the cost of customers'application.
In addition, PVAxx-27Bxx series has an isolation voltage of 4000VAC and industrial operating temperature range of -40℃ to +70℃, and its EMS EFT/Surge is ±4KV. Protections of output short circuit, over-current and over-voltage are included.
Applications:
Widely used in applications of the coal mining control system and security industry.

Features:
● Specially designed for electrical equipment in coal mining
● Ultra-wide 85 - 900VAC input voltage range
● Industrial grade operating temperature: -25℃ to +70℃
● High I/O isolation test voltage of 4000VAC
● EMS EFT/Surge: ±4KV
● High reliability, high efficiency, long lifespan
● Output short circuit, over-current and over-voltage protection