350W high power density DC/DC power converter, the upgraded String-powered solution for Solar Tracker - PV350-29Bxx (TR) series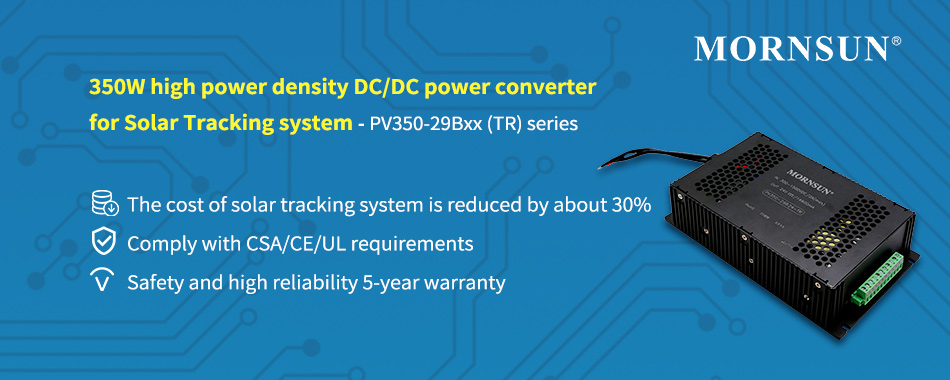 With the technology breakthrough, MORNSUN launched the upgraded PV350-29Bxx (TR) series with a higher power, better performance, and higher efficiency based on the hot-selling series PV200-29Bxx. This series has the features of ultra-high voltage input, wide operating temperature, high efficiency, and small size, etc. The safety design complies with CSA/CE/UL requirements, which is satisfy the high-reliability requirements of customers, and these new TR series are with a 5-year warranty.
Advantage
1. The upgraded PV String-powered power solution
The wide input voltage of 300-1500VDC(up to 1700VDC for the duration of 10s), which is taking power from high-voltage Strings BUS directly, greatly simplifies the power system design:
① No need for additional PV panels, getting more effective power generation space and improving the economic benefits;
② No need for additional power lines, easy to install and maintain, saving cost of the whole system.
2. Greatly reduction of the costs of the whole solar tracking system
The 350W high power density PV350 module allows a single Tracker to drive more PV panels, reducing the number of Trackers required per megawatt and reduce overall costs by an estimated 30%.
3. High insulation and high reliability
① Isolation withstands voltage 4000VAC: Reinforced insulation between the primary and secondary sides, the withstand voltages of primary-ground and secondary-ground are 4000VAC.
② multiple protections: Input under-voltage protection, reverse input voltage protection, over-temperature protection, and output short circuit, output over-current, as well as output over-voltage protection.
③ The product meets UL1741, EN62109 certification requirements, and can be operating up to 5000m altitudes, safe and reliable.
4. Wide operating temperature range, ultra-low power consumption, high efficiency
① Operating temperature range: -40℃ to +85℃.
② Efficiency up to 92%.
5. Multiple patented technology
Application
It can be widely used in the PV industry such as combiner box, Solar tracking system, central inverter, string inverter, PV energy storage, PV water pumping system, etc..