DFN package isolated RS485/422 Transceiver -TD(H)541S485S-F series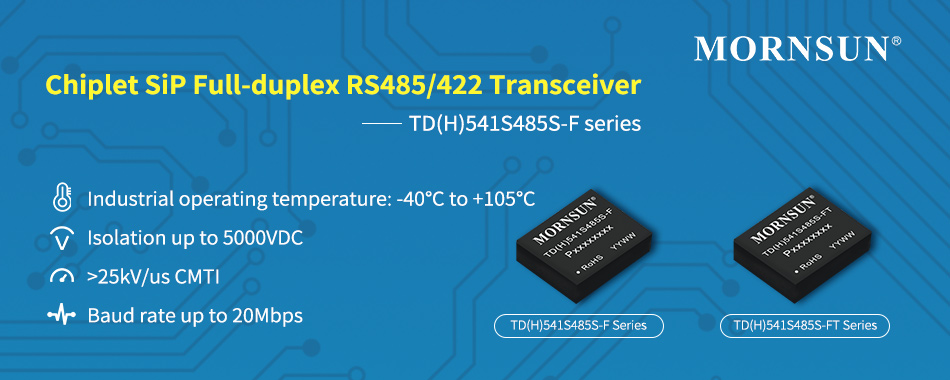 Since the launch of the 4th generation of bus interface products with integrated system integration package (Chiplet SiP) in 2020, the sales volume of R4 series products has continued to rise, and more diverse demands for the products are increasing. To satisfy the actual application requirements of users, MORNSUN has launched the new cost-effective full-duplex RS485/422 transceiver TD(H)541S485S-F in the DFN package.
1. Advantages
1) Full-duplex communication
Half-duplex allows data to be transmitted in both directions during data transmission, but only one direction at a time, not simultaneously in both directions, such as a walkie-talkie.
Full-duplex allows data to be transmitted in both directions at the same time during data transmission, such as phone calls. The greatest advantage of a full-duplex over a half-duplex is that its transmission mode can be used for point-to-point connections without conflicts.

With the existing half-duplex product TD541S485H and these new full-duplex products TD(H)541S485S-F, MORNSUN offers more choice to users. TD(H)541S485S-F can be used for both half-duplex and full-duplex communications, providing customers with flexible design options.
2) Cost-effective
The discrete solution involves various costs, including material, manufacturing, management, development, maintenance, etc. It also has a conflict of the cost and reliability in the implementation process. This full-duplex series products integrate power supply, isolation, and communication in one module, saving energy and reducing costs to improve the competitiveness of customer products.
2. Features
● Ultra-small, ultra-thin, chip-scale (compatible with SOIC-20 package)
● DFN package, sidewall copper
● Integrated isolated 5V power
● Isolation up to 5000VDC
● Baud rate up to 20Mbps
● >25kV/us CMTI
● 1/8 unit load, up to 256 nodes on a bus
● Industrial operating temperature: -40℃ to +105℃
● Meet AEC-Q100 standard
3. Application
The new full-duplex RS485/422 series can be used in industrial automation, building automation, smart meters, photovoltaic inverters, motor drive, etc.

* For detailed information please refer to the related datasheet, product news is for reference only.