120W Open-frame Medical AC DC Converter LO120-20BxxMU Series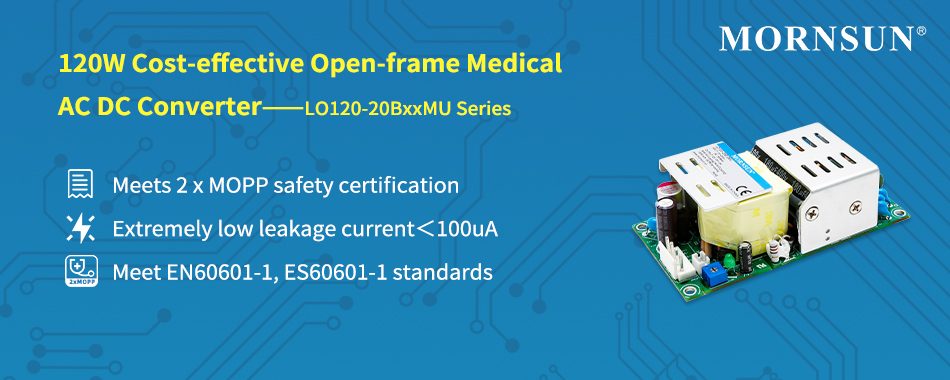 To satisfy the demand of medical applications for medium power segment power supply, MORNSUN launches the high-reliable and cost-effective LO120-20BxxMU series (84W output power without fan, 120W output power with fan). The LO120-20BxxMU series is the most cost-effective choice for applications that do not have high requirements for size and active PFC function.
The LO120-20BxxMU series has the advantages of small size (4"*2"*1.26"), leakage current lower than 100μA, high efficiency, low power consumption, etc. It meets the reinforced insulation 2xMOPP and medical certification EN60601-1, ES60601-1. And it also has the complete protections of output short-circuit, over-current, over-voltage, etc.
Advantage
1) High reliability
① High I/O isolation test voltage up to 4000VAC
② Low leakage current<100μA
③ Meets 2 x MOPP safety certification
④ High output voltage accuracy
⑤ Meet EN60601-1, ES60601-1 standards
⑥ Low Noise
2) Compact size: 101.60*50.80*29mm
3) Wide operating temperature, high efficiency, low power consumption, low interference
① Operating temperature range:-30℃ to +70℃
② Efficiency up to 91%
③ Stand-by power consumption<0.3W
④ EMI meets CISPR32/EN55032 CLASS B, CE margin >6dB, RE margin >5dB

Application
With a high-reliable design for the medical industry, the LO120-20BxxMU series also can be used in industrial control, electric power, security, smart home, etc.

Features
● Universal input voltage range: 85-264VAC or 120-370VDC
● Operating temperature range: -30℃ to +70℃
● Compact size: 101.60*50.80*29mm
● Contact leakage current:<50μA(actual test: 36.5uA)
● Meets 5000m altitude requirements
● Output short circuit, over-current, over-voltage, over-temperature protections
● Hold-up time of 50ms(typ.)
● Efficiency up to 91%