DFN package isolated RS232 Transceiver -TD(H)541S232H、TD041S232H
To satisfy the market requirements of the RS232 communication product, MORNSUN launched the 4th generation (R4) isolated RS232 transceiver TD(H)541S232H and TD041S232H series in the DFN package. It is a cost-effective RS232 transceiver using Chiplet SiP technology for the increasing demands.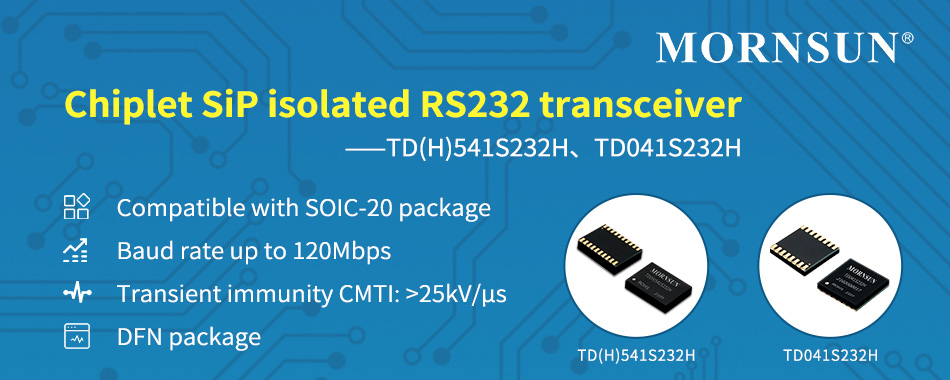 Compliant with TIA/EIA-232 standard
Rs-232 standard interface (also known as EIA RS-232) is one of the commonly used serial communication interface standards. Its full name is serial Binary Data Exchange Interface Technical standard between Data Terminal Equipment (DTE) and data communication equipment (DCE). Rs-232 can realize point-to-point full-duplex communication through three wirings (TXD, RXD, and GND). As the earliest bus communication mode, 232 is very common in the application of short-distance communication.
Based on the SiP process platform and bus technology platform, MORNSUN expands and develops 232 series new products represented by TD(H)541S232H and TD041S232H, providing customers with flexible design selection in 232 communication design.
Advantages
As we know, the global electronic industry and supply chain are facing great challenges, MORNSUN'S complete supply chain and strong production capacity ensure our Fast Delivery Guarantee.
This series of products can be pin-to-pin compatible with the mainstream duplex products on the market.
Features
● Ultra-small, ultra-thin, chip-scale (compatible with SOIC-20 package)
● Product dimensions: 10*13*3.1mm (TD041S232H series: 10*10*1.6mm)
● DFN package, sidewall copper
● Integrated isolated 5V power (TD041S232H series: No power supply)
● Isolation up to 5000VDC(TD041S232H series: 3750VAC)
● Baud rate up to 120Mbps
● >25kV/us CMTI
● Industrial operating temperature: -40℃ to +85℃
● Meet AEC-Q100 standard
These two products series have similar features except for the size and power supply.
Cost-effective
The discrete solution involves various costs, including material, manufacturing, management, development, maintenance, etc. It also has a conflict of the cost and reliability in the implementation process. This full-duplex series products integrate power supply, isolation, and communication in one module, saving energy and reducing costs to improve the competitiveness of customer products.
Applications
TD(H)541S232H、TD041S232H series can be used in industrial automation, building automation, smart meters, photovoltaic inverters, motor drive, etc.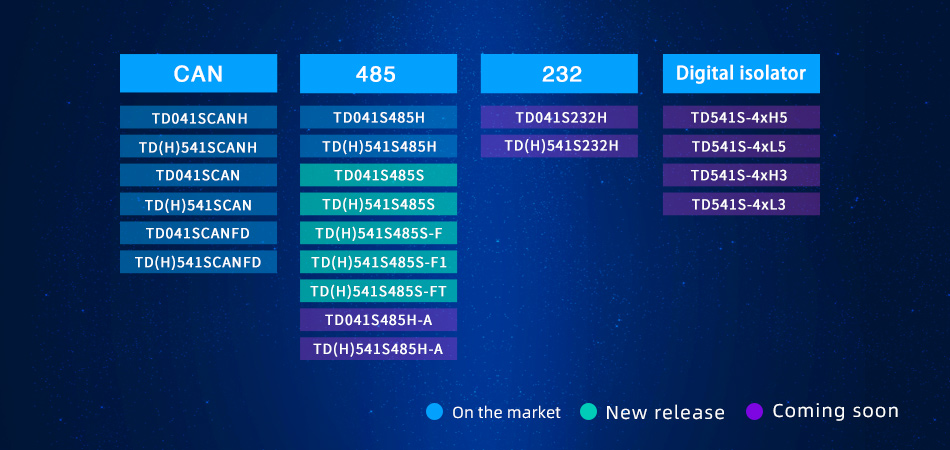 * For detailed information please refer to the related datasheet, product news is for reference only.