MORNSUN India Seminar 2022: Power Supply Technology & Typical Application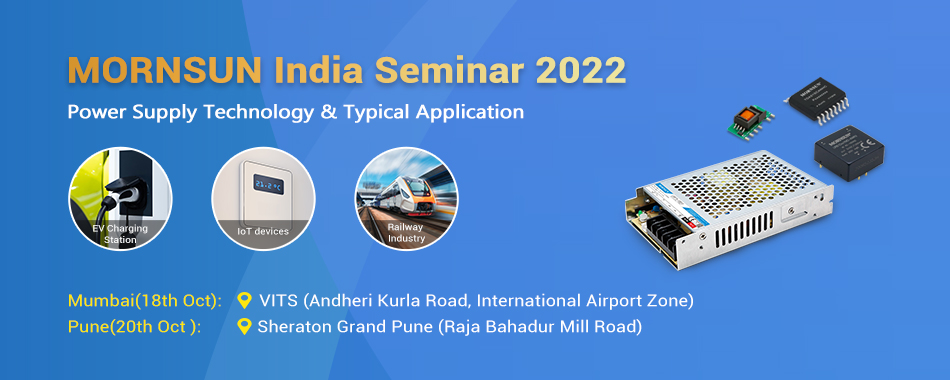 Mornsun is pleased to invite you to attend India's Power Supply Technology & Typical Application Seminars 2022.
In order to create a better attending experience in the seminar for you, welcome to join the seminar for free. The Experienced local FAEs from Mornsun will discuss and aim to share and exchange experiences on common problems and issues in the application field of power supplies with you. We are looking forward to meeting you by then!
SAVE YOUR SEAT
Locations and Dates:
Bangalore: 10th Aug, at The Grand Magrath Hotel, Ashok Nagar, Bengaluru ( completed)
Hyderabad: 24th Aug, at Hyatt Place, Banjara Hills, Hyderabad( completed)
Noida: 27th Sep, at Radisson Blu (MBD hotel Noida), L-2, Sector 18, Noida
Gurgaon: 29th Sep, at Crowne Plaza Today Gurugram, Sector 29, National Highway-8, Gurgaon
Mumbai: 18th Oct, at VITS, Andheri Kurla Road, International Airport Zone
Pune: 20th Oct, at Sheraton Grand Pune, Raja Bahadur Mill Road
PS: The content of the seminars is the same, please choose the most convenient for you to attend.
Topics:
1) Ultimate breakthrough in the next version of the Power supply
2) Typical application case analysis (IoT, Electricity meter, Railway, EV, and EV charging)
3) EMC diagnostic and Circuit design
Seminar Agenda:
10:00-10:30 Customer Registration
10:30-11:00 Welcoming speech & Company introduction
11:00-12:00 1st Speech: Ultimate breakthrough in the next version of the Power supply
12:00-12:15 Simple tea break
12:15-13:15 2nd Speech: Typical application case analysis
13:15-14:30 Lunchtime
14:30-15:45 3rd Speech: EMC diagnostic and Circuit design
15:45-16:15 Survey and Lucky draw
16:15-16:20 Conclusion & Farewell speech