Visit MORNSUN at 9th ELASIA - 2022 Exhibition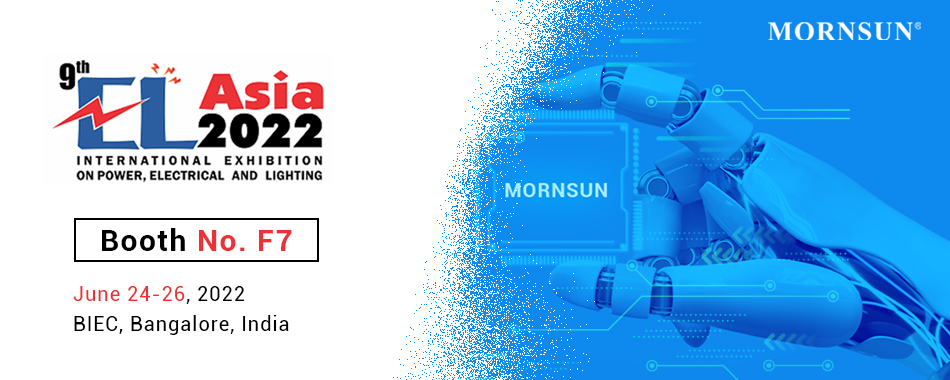 Do you want to know the cutting-edge power applications?
Do you want to keep up with industry trends and get the latest technical information?
Do you struggle with the high cost of choosing a reliable power supply for your device?
Nothing to worry about! As a leading manufacturer of one-stop power solutions, MORNSUN will present the cutting edge power supply cases for various applications in ELAISA exhibition from June 24th to 26th, 2022. We sincerely invite you to visit our booth!
About 9th ELASIA-2022
The podium to compare the best in the world to the best in India. The show will constitute an ideal platform for maximum exposure of cutting-edge products & services to key Electrical, Electronics, Lightings & Power sector players and top decision-makers.
About MORNSUN
Deeply rooted in the power supply sector for over 22 years, Mornsun always focuses on cutting-edge trends and the newest technology, constantly updating its portfolio to cater to the various needs of our customers in different industries.

Our broad portfolio covers multiple power ranges and includes:
Enclosed AC-DC Power Supplies, Din-rail AC-DC Power Supplies, PCB mounted SMD & Through Hole Enclosed and Open Frame AC and DC converters, CAN/RS485/RS232 Transceiver modules, SiC/GaN driver power supply, Controller ICs for AC and DC design applications, etc.
Visit us now
Location: BIEC, Bangalore, India
Date: June 24-26, 2022
Booth: No. F7
We are pleased to invite you to explore some latest power products/technologies with our experts. Visit us at booth No.F7, we will gladly answer your questions and requests. Looking forward to your visit!!!