40-60W High Power Density DC/DC Converter - URB24xxYMD-40WR3, URB24xxLD-60WR3 Series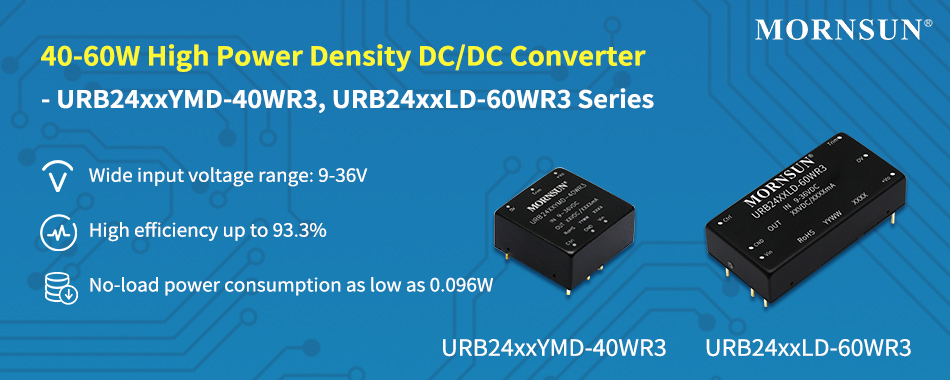 Introduction
MORNSUN 40W/60W high power density DC/DC converters (URB24xxYMD-40WR3/URB24xxLD-60WR3 series) in the R3 series are designed to meet the higher requirements of compact size and wide input voltage, to cope with the rapid development of industrial power.
It features an ultra-wide input voltage range of 9-36V, a wide operating temperature range of -40℃ to +105℃, and has input under-voltage, output over-voltage, over-current, and short-circuit protection, which provides stable support for the backend.
Advantages
Fast and stable Delivery
MORNSUN has established 34+ SMT production lines, contributing to a production capacity of 150KK per year. With this strong production capacity, Mornsun provides a controllable and free from outside influence solution to ensure stable delivery, making it the ideal choice for reliability and cost-effectiveness.
Compact size & High power density
The modules feature high power density and compact size, effectively reducing the PCB footprint and improving space utilization.
URB24xxYMD-40WR3's dimension: 1*1, high power density up to 87W/ in3
URB24xxLD-60WR3's dimension: 2*1, high power density up to 65W/in3
Applications
URB24xxYMD-40WR3 and URB24xxLD-60WR3 series can be widely used in industrial control, electric power, instrumentation, and communication applications.

Features
Input voltage range: 24 (9-36) VDC

Output voltage range: 3.3-28VDC

High efficiency up to 93.3%

Operating temperature range: -40℃ to +105℃

No-load power consumption as low as 0.096W (URB24xxYMD-40WR3)

Input under-voltage protection

Output short-circuit, over-current, over-voltage, over-temperature protection

Universal industry standard pin-out

Meets EN62368 standard
* For detailed information please refer to the related datasheet, product news is for reference only.