Prevent the surge of lightning, EMC Filter for DIN rail Power Supplies - FC-LxxI Series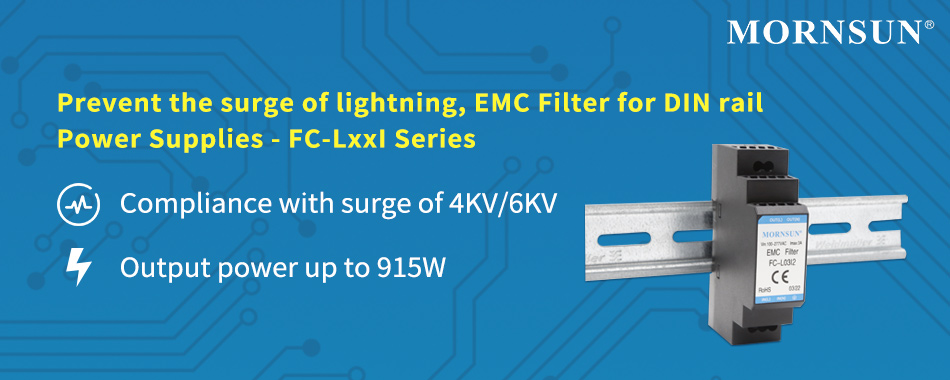 Introduction
Mornsun's DIN rail power supplies have high EMC performance, however, for special applications which have higher EMC interference, filters would be necessary for anti-interference design purposes, thus Mornsun launched the FC-LxxI products, a series of EMC filters as a supplement to meet the design requirement specifically.
Advantages
Strong Immunity to surge voltage
The surge caused by the fluctuation of power circuits has a great impact on the rear equipment and improper protection of the rear equipment may cause faults. The FC-LxxI series, a filter module applied in the input of the power supplies, has a strong immunity to surge voltage in conventional circuits, such as the surge of DM up to 4kV and surge of CM up to 6kV. (General auxiliary devices can only support 2kV/4kV.)
Strong Immunity to CM & DM Interference
Based on the first-order filtering scheme, the EMC filter FC-LxxI series has a strong immunity to CM & DM interference, effectively ensuring the stability and reliability of the whole system.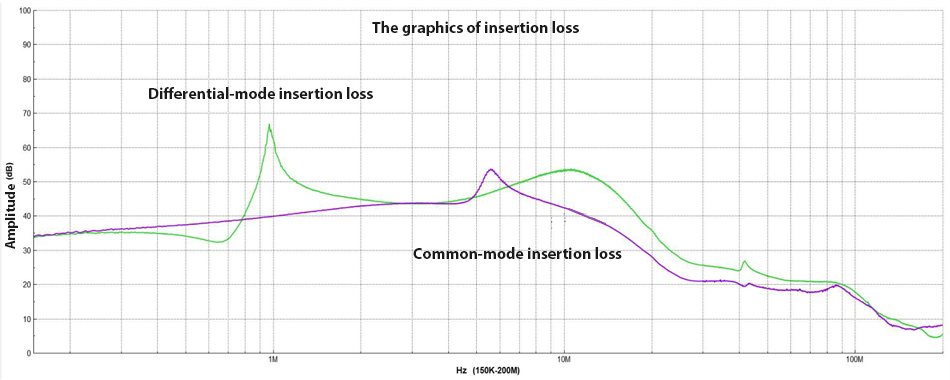 Compliance with Industry Safety
FC-LxxI series features high reliability with CE markings (IEC60939/62368). Its designs combined with the main products in the market and can be caught with MORNSUN DIN rail power supplies LI series, helping the whole system meets the CISPR32/EN55032 CLASS B standard.
Features
Compliance with surge 2KV/4KV and 4KV/6KV

Output power up to 915W

Ultra-Wide input voltage range: 0-305VAC

Operating temperature range: -40℃ to +85℃

EMC meets IEC/EN61000-4 and CISPR32/EN55032 standards

Safety according to IEC/EN60939 and IEC62368
Selection guide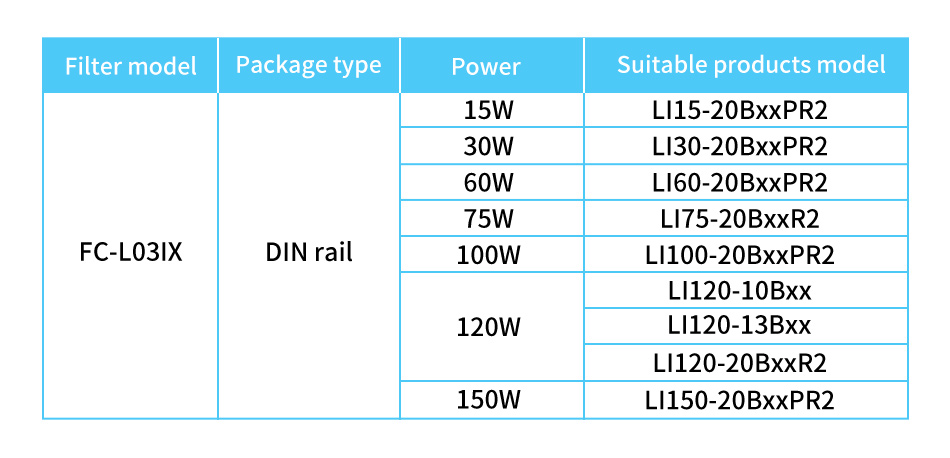 * For detailed information please refer to the related datasheet, product news is for reference only.